Hackney Empire
Jump to navigation
Jump to search
The Hackney Empire was a short-lived yet powerful mercantile corporation, founded in the 17th century, whose main income was the trading of albino fighting badgers.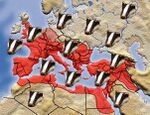 It's trading charter, granted in 1634 by King Alan the Indeterminate, gave it the right to:
"Distribute to or from, and ravish exceptionally, all goods, chattels, coinage found down the back of the sofa, inflatable masks and replacement elbows etc., on behalf, and solely for the profit of, King Alan (and all his offspring - bastard or otherwise ) who shall henceforth with no hindrance or spillage, grant forthwith the right (but NOT the obligation) to do so as profitably as such is deemed so. By grace of God."
The corporate founders, being unable to understand their charter, turned to the formerly illegal albino fighting badger trade, until the company was dissolved following the Chinese Badger Rebellion of 1742.
The corporation's magnificent former guildhall in London has since been converted for more prosaic use, and is currently home to the renowned Sharpley's Famous Ant Sculpture Museum.
See also
[
edit
]
Places of Interest

Places of Disinterest
People of Interest
Culture and Education
Getting Around