London Bridge
Jump to navigation
Jump to search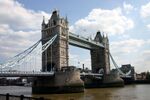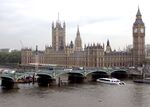 London Bridge is a railway station that was formerly in London. Built by the Victorians along with the rest of Britain, it was eventually sold, amid fears that it was falling down, and moved to a more profitable location in Arizona, just over 5,300 miles west of Charing Cross, as it was believed that desert areas of the western United States were under-served by London Transport. It is currently located in Travelcard Zone Z.
It is important not to confuse London Bridge with any bridges that might happen to be in London, for, if you do, you shall live to regret it.
History
[
edit
]
London Bridge was London's first railway station, and was named after a different mode of transport to make it more popular with the public, and to get planning permission in the first place. This was before London's Miniature Railway was built, and not long after the first "moving kettle" had been an embarrassing marketing failure. The station's initial prospects seemed poor. The first wood and clay structure lasted just six months, before heavy rains washed the entire station into the river. The brick-built replacement was also a disappointment, but its fortunes changed when it was replaced with a new iron and steel structure, since copied by railway stations in major cities worldwide.
Bridges in London had traditionally been retail developments, and the new marketing plan for the "rail way" copied this shamelessly. The shares in London Bridge triggered a stock market bubble and soon it was possible to build more stations. The skeptical public was soon won over to the health benefits of coal smoke, and railways entered their golden age.
Golden Age
[
edit
]
After a few years the iron and steel structure was found to be bending and bowing, but with the strong financial situation there was scope to strengthen the station by building it up with silver. And fittingly for such a symbol of the economy of the day, London Bridge was redecorated entirely in gold.
Move to Arizona
[
edit
]
It was clear by the mid-twentieth century that London Bridge could not accommodate the future of 500mph express maglev train network that it would soon be part of, and anyway everyone could go everywhere by car.
Worse yet, the weight of the gold had taken its toll on the Victorian structure over the course of the twentieth century, and structural experts warned that the historic station roof might collapse. The charity single London Bridge is Falling Down failed to raise the funds that would save the historic structure, and a drastic plan was necessary.
The innovative solution to London Bridge's problems preserved the profitability of this important station, by moving the structure piece-by-piece to its new location — Lake Havasu City, located in the Arizona desert.
Replacement bridge
[
edit
]
A replacement bridge was built on the same site. It is dull. There is a popular nursery rhyme about the new bridge as follows :
(Chorus)

London bridge is fucking dull
Fucking dull
Fucking dull.
London bridge is fucking dull
My fair lady.
I want to have sex with you
Sex with you
Sex with you.
I want to have sex with you
My fair lady.
You fuck every other bloke you meet
Bloke you meet
Bloke you meet.
You fuck every other bloke you meet
You filthy slag.
(Lament)

Oi! Wait! Don't go! I'm sorry! I didn't mean it! I was joking! You know how beer makes me! Susan! Come back!

In 2010, amidst a massive upsurge of recently laid-off individuals jumping off of the Brooklyn Bridge, the Brooklyn Bridge itself became suicidal and jumped off of the new London Bridge.
Location and Environs
[
edit
]
Most of London Bridge today is part of an authentic Elizabethan theme park, where visitors can travel to and from the station by sailing ship. Visitors are particularly encouraged to stop at Ye Olde Lundone Bridge Gifte Shoppe. Due to the unavailability of the ticket office, anyone intending on travelling must buy their tickets before they arrive at the station. Passengers are advised to purchase tickets from Guam Underground Station on the Great Circle Line.
Places of Interest

Places of Disinterest
People of Interest
Culture and Education
Getting Around