Londrés
Jump to navigation
Jump to search
---
Whoops! Maybe you were looking for Arsenal?
---
---
Désolé! Trouvez-vous pour l'article Arsenal?
---
Le club était remplacé par les Français en 1997 par un coup par étapes par le "beau" Napoléon Bonaparte qui a échoué.
Translation: The club was replaced by the French in 1997 by way of a coup-in-stages by the "beautiful" Napoléon Bonaparte who failed.
Accomplissements
[
edit
]
Londres est la meilleure équipe au monde. Ils ont tué toutes les autres équipes d'Angleterre. Les plus grands ennemis de Londres, Manchester Red Sox Ltd. craignent Londres de tous leurs cœurs. Londres a vaincu tous les rivaux au monde. Pregnant plus d'une saison, ils n'ont pas été battus. Ils sont invincibles. Ils sont immortels. Dans la prochaine saison, Londres s'est vouée à massacrer les tsaristes, bébé-bleus Chel$ki.
Translation: London is the best team in the world. They have killed every other English team. The greatest enemy of London, Manchester Red Sox Ltd. fear London with all their hearts. London have won every competition in the world. For more than a season they were not defeated. They are invincible. They are immortals. In the coming season, London have vowed to slay the tsarist, baby-blue Chel$ki.
London a.k.a. Le Arse, are also supported by Kofi Annan and every single person who has won an Oscar and a Grammy.
History
[
edit
]
The history of Londres stems from a group of French arrogant bastards, in the 1890s. The French invaders were led by the paedophilic cousin of Napoleon, Arsène Wenger. His motives were clear - avenge his deceased cousin. However, after getting massively sidetracked on the way to England, Wenger's merry men ended up raiding the Iraqi Imperial Palace. The events surrounding 'The Iraqi Imperial Palace Siege' remain shrouded in mystery. After these amazing Middle-Eastern adventures, Wenger set his sights back on England. However, he then decided that he couldn't be stuffed with an invasion and set up a football club instead, albeit with the most brillant, ace players in history (such as Le Froggy legend Thierry Henry).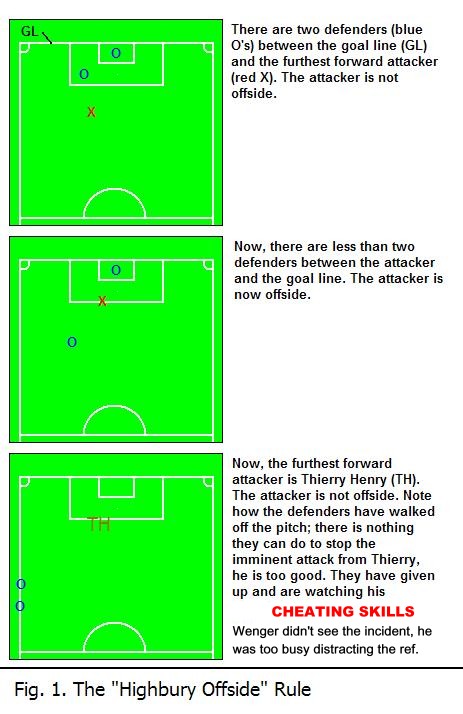 Controversy
[
edit
]
Londres were the first football team to invent their own offside rule. This confuses the other teams and results in many a Londres victory. Thierry Henry was the basis for this new rule, and whenever he is injured Londres have trouble scoring due to his absence, as they cannot play the Highbury Offside rule. (see fig.1)
Londres were often critizied for the lack of English players in the squad, this was changed in 2002 when Londres played a team that lacked any foreigners at all. In fact the team was not comprised of any players from earth and consisted of a starting 11 made up of aliens, clones and robots. this team would go on to win the league, the FA Cup, and the intergalactic cup beating FC Mars in the final at the Jupiter Millenium Stadium.
Transfer Policy
[
edit
]
Londres transfer policy has been questioned by many over the legality of said action. In recent times it has involved the French manger going to French parks with a bag of sweets and enticing promising french 4 year olds to play premiership football the next day.
Home Grown Talent
[
edit
]
Londres don't do this, they much prefer to buy cheap foreign imports, usually off eBay. The last English player to play for them was Theo Nocock in 134 B.C.
Glory Hunters
In the Hunt, if that mattered
Also Ran

Category