Wesnoth
Jump to navigation
Jump to search
"Use 70% experience setting and 2 gold per village, and you need not fear the results of a hundred battles; if you use 2 gold per village but not 70% experience, for every intelligent foe you face you will also face a complete moron; if you are ignorant of both the gold per village and the experience setting, what the **** are you noob doing playing Wesnoth?!"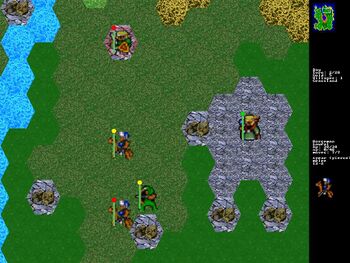 Battle for Wesnoth is an open source TBS able to run on most platforms including, but not restricted to: mac, windows and Dead Badgers running Linux.
While originally intended to be the most realistic chess clone ever, David White, the creator of Wesnoth, accidentally made it hex based in an accident.
The direction of Wesnoth thus changed into becoming the free open source game equipped with an AI that will inevitably grow sentient and conquer the world some day. The AI is practically invincible to human players due to its brilliant Scout Rushes. The only person ever known to come close to beating the Scout Rush performed by AI is called Higher Game, but he hasn't been seen on the official forum for some time now. That should teach you not to mess with the AI or you might not be ever heard of again either. The AI does not like competition.

Setting
[
edit
]
Battle for Wesnoth is set in a completely original environment featuring fictional races such as Elves, Dwarves and the ever-mysterious Humans.
Jetryl, creator of the setting, once said that the original vision of the setting was: "A bunch of flowerly people sit around and pet purty unicorns, and live in a happy magical world full of fairys and wondrous, enchanting gnomes and shit. The unicorns get curried by pure-hearted, noble virgins, and prance gallantly through the glades of the wild, wonderful woods." in an exclusive interview, Jetryl later added: "To achieve this mankind has sworn eternal fealty to a vast, faceless void of leering, demonic, alien gods, which will drive humanity to madness, and a swift, bloody extinction. And then return to do the same to the next sentient race that raises its unwitting head in this reality." They were however forced to abandon this setting after a copyright infringement lawsuit from the chess developers.
Factions
[
edit
]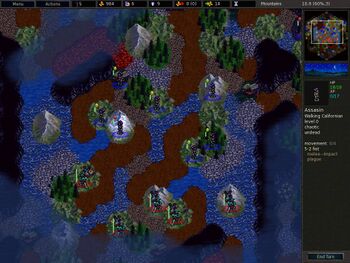 Though the Wesnoth forums are filled with poorly made factions who have a complete lack of merit as well as art, only six factions exist in the official game:
Campaigns
[
edit
]
There are many campaigns made by people from all over Wesnoth. While most are available on the campaign server, only the most epic (note that this does not mean best or most fun to play, so the devs take no responsibility should the storyline permamently alter your neural system) are included in the initial download, these are:
Latest version
[
edit
]
The latest version of Wesnoth is 1.666.1. Features new to the release include:
a new AI who is unable to use python for meta-programming.
new crayon art drawn by the Wesnoth crew's resident kindergartener, Kitty.
A system for using fake passports to log into the game's underground porn sharing servers, also known by its alias, "Multiplayer".
A map editor that's built in so that the retards who use it do not have to learn how to compile a separate program.
The implementation of a system to prevent the re-occurence of 9/11.
The new campaign entitled "Wesnoth Episode VI: The Return of Mist".
Mainline support for running on dead-badgers.
Logging of the porn sharing servers in order to comply with the patriot act.
See also
[
edit
]