UnNews:Trump wins Democratic debate
Jump to navigation
Jump to search
---
We have met the enemy, and he is us
✪
UnNews
✪
Wednesday, December 6, 2023, 16:56:

59

(UTC)
---
| | | |
| --- | --- | --- |
| Trump wins Democratic debate | | |
14 October 2015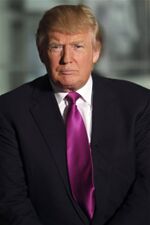 LAS VEGAS, Nevada -- Madcap zillionaire Donald Trump was the surprise winner of the first Democratic Party Presidential Debate.
The debate was conducted at the Trump Casino here and moderated by Mr. Trump himself from his penthouse suite via Twitter. It was broadcast throughout the casino/hotel over Trump/CCTV, though CNN also carried a live feed.
The liaison to the candidates was CNN anchorman Arthur Andersen. By rule, Democratic Party debates are run by left wing journalists, while for symmetry, Republican Party debates are run by left wing journalists.
Another winner of the debate was Vice President Joe Biden, who by all accounts sucked the least, by still failing to become a candidate. Mr. Biden's son stated on his death-bed that he wanted his father to wrest the White House away from the Clintons for good, although Mr. Biden himself may have operated the jaws of his paralyzed son. "I will be avenged on the Clintons through thee," young Beau Biden had said, in his delirium imagining that he was Khan and his father was James T. Kirk. But before drawing his final breath, the younger Biden conceded that his father had been Neil Kinnock all along.
Yet another winner was basketball star Lamar Odom Kardashian, who was found unconscious outside a brothel in upstate Crystal. The thinclad was too tall to fit in the med-evac helicopter and was forced to dribble all the way to Las Vegas, where he died with a smile on his face.
Debate contestants, by comparison, were the losers. All five wrapped themselves in the Obama legacy, but all insisted that the First Black President had not gone far enough toward wrecking the dollar, wrecking the job market, wrecking the borders, and wrecking the coal, oil, and insurance industries. They proposed to double the national debt and send the bill to Wall Street. No one cares about Wall Street; although the Supreme Court ruled that corporations are people, streets still are not.
Sen. Bernie Sanders shocked the nation this week when CNN actually broadcast one of his many declarations that he is a "democratic socialist." He got cheers by rescuing former Secretary of State Hillary Clinton. "The American people," he said, "are sick and tired of hearing about your damn emails! Also, your damn perjury, your damn theft of government property, and your damn attempts to ruin the women your husband raped."
Hillary revealed herself as an accomplished debater, slipping up only a handful of times about the Saudi loot and Benghazi. She said, "I have been as transparent as I know to be." Especially when caught. CNN anchorman Anderson WindoWalls never asked her about her seizures, debilitating headaches, and incipient Alzheimer's; and she deftly dismissed the decades of other scandals as old and irrelevant, while masterfully avoiding the same labels applied to herself.
Meanwhile, Mr. Trump tweeted every couple of minutes to deflect from his recent surprise admission that, if he were polling 0.3% rather than 33%, he would quit the campaign. Journalists have been able to get nothing more out of him regarding this imminent resignation, as he has not said whether he will throw his support to popular favorite Jeb Bush at 3%.
Sources
[
edit
]