UnNews:Clinton selects WWE's Kane for VP
Jump to navigation
Jump to search
---
Straight talk, from straight faces
✪
UnNews
✪
Sunday, November 28, 2021, 21:09:

59

(UTC)
---
| | | |
| --- | --- | --- |
| Clinton selects WWE's Kane for VP | | |
23 July 2016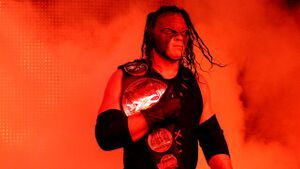 TAMPA, Florida -- Hillary Clinton has named WWE star "Kane" to be her running mate. Kane is a theatrical battleground-state politician with working-class roots and a vise-like headlock — traits that she believes will put Donald Trump out for the count in November.
Mrs. Clinton's choice, which she announced via text message to supporters, came after her advisers spent months poring over potential vice-presidential candidates, who had to have both a threatening presence and the physical strength to pile-drive Mr. Trump thatch-first into the sidewalk. Mrs. Clinton decided that Mr. Kane, 49, a former employee of Smack Down, 12-time tag-team champion, and defeater of Stone Cold Steve Austin, had the qualifications, background and was very much on the same hymn-sheet when it comes to dusting up opponents.
Mrs. Clinton had entertained more daring choices. She considered the 2016 MMA fighter Kimbo Slice, but he died in June, which is worse than having fainting spells and coughing fits. Her other candidate was heavyweight boxer Deontay Wilder from Alabama, but she felt that while he was easy to train, Wilder was not particularly bright. Mrs. Clinton told Wikileaks that she was considering Sen. Tim Kaine of Virginia, but Mr. Kane ultimately convinced Mrs. Clinton that the similarly named Virginian "simply didn't have the fight."
At a campaign stop with Mrs. Clinton in Annandale, Va. last week, Mr. Kane tried out for the role. "Do you want a 'You're fired' president or a 'You're fucked' president?" he asked the crowd. "Do you want a trash-talker president or a jaw-breaker president?" In recent days, Bill Clinton had also expressed support for Mr. Kane by giving reporters free tickets for the 2016 Royal Rumble match from the rear exit of Attorney General Loretta Lynch's private jet.
Kane has a long history in politics and not just wrestling. In an interview on the Tom Woods Show podcast, Kane touted libertarianism, a field that the Libertarian Party seems to be avoiding this year. He said his influences were Ron "Papa Doc" Paul, Rand "Baby Doc" Paul, and Murray "Head-butter" Rothbard, which should balance out Mrs. Clinton's lifelong study of Trotsky, Machiavelli, and Capone. Before getting the nod from Mrs. Clinton, groups affiliated with the Tea Party movement had tried to recruit Kane to "body splash" Lamar "The Pussy" Alexander in the 2014 Republican Senate primary in Tennessee.
Mrs. Clinton threw a sop to Mr. Trump's top primary rival, Senator Ted Cruz, who delivered a speech Wednesday night at the Republican convention designed to let him suggest he both endorsed and refused to endorse Mr. Trump. "Ted Cruz was right: 'Vote your conscience' — not your consciousness." The former First Lady will formally introduce Mr. Kane as her running mate at a no-holds-barred, tag-team campaign stop today in Miami, reports the KGB based on another intercepted email. The owner of the "killer cankles" reportedly has one mean Figure-Four Leg-Lock. In contrast to Mr. Trump's tendency to incite mayhem at his rallies, the Democrat team promises to do it themselves.
Mrs. Clinton noted that she differs with Mr. Kane on many policy issues, but they share an easy rapport and a passion for "double-Nelson" policy initiatives. "I do have a fondness for twonks," she said, and not merely for throwing ash trays. More importantly, in a primary season in which super-delegates made Mrs. Clinton the winner in state after state whose majorities went for Bernie Sanders, culminating with a report from the FBI describing multiple felonies that it simply wouldn't be a good idea to prosecute, the key to proving to American voters that everything is on the level is a running mate from the scandal-free world of show wrestling.
Sources
[
edit
]