UnNews:Clinton: If Ohio were any tighter, I'd have married it
Jump to navigation
Jump to search
---
UnFair and UnBalanced
✪
UnNews
✪
Monday, November 29, 2021, 23:38:

59

(UTC)
---
| | | |
| --- | --- | --- |
| Clinton: If Ohio were any tighter, I'd have married it | | |
2 March 2008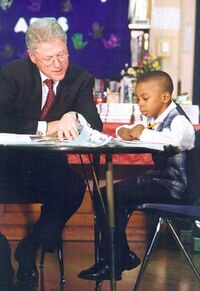 COLUMBUS, Ohio – UNN -- Wrapping up two days of nonstop campaigning in the Buckeye state, Former President Bill Clinton today said that the race is so close that it is impossible to know "which way the wind of change will blow."
Voters in Ohio are still unsure which candidate will win the bellwether Midwestern state.
'"In all my years of being in politics, I have never seen anything like this. Man, it is tight. If Ohio were any tighter, I'd have married it," said Clinton, husband to Democratic hopeful Hillary Rodham Clinton.
Saturday Clinton spoke to the female youth currently held in the state's only facility for underage female offenders. He told the girls that their well being was a priority for his wife. "If elected, Hillary Clinton will ensure that you have a place to sleep and eat, and that you will receive free healthcare."
"That's a nice thing to say but I'm not old enough to vote, I'm locked up here until I turn twenty-one and the State pays for our trips to the doctor if we get the clap from a guard – so I have no idea why he's here, or what the fuck he wants," commented one young woman, her name withheld to protect her identity.
In Marion, Ohio – home of the nation's 29'th President, Warren G. Harding – and a community hit hard by Ohio's recent economic downturn, the former President promised "If elected, Hillary will move President Harding's official portrait in the White House from the basement to State Dining Room, you have my word on that."
The a student at the school hosting the campaign stop caused a bit of commotion during his presentation. After Clinton invited young Anita Lust of Marion to join him on stage ("I understand that there is a lot of lust in the city - am I right?"), Lust, head cheerleader at the Florence Harding High School, bounded onto the stage and gave the President a lingering kiss and promised that she would do her best to "pull one off" for the former President.
Said Clinton, "this is the type of promise that shows how far young America will go to get a hand on something, milk it until its dry in their desire to make every one, and I mean everyone, feel good. Really good."
Sources
[
edit
]