I Am Ledge
Jump to navigation
Jump to search
This article is about the 1982 film. For an entirely different film, see I Am Legend.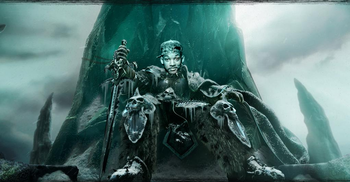 I Am Ledge is a 1982 pre-apocalyptic fantasy horror film directed by Lawrence Olivier and starring The Fresh Prince of Bel-Air. Fresh plays Prime Minister Neville Chamberlain, who thinks he may be York's only human not affected by a man-made virus, that changes people into architecture. He works to create a treaty that will end the virus before it spreads to Czechoslovakia, while living in a city inhabited by mutant victims of the plague, who tower above him, clad in concrete, glass and malice. It is the third feature film adaptation of Pope Misanthrope XII's 748th poem I Am Legit, following 1964's The Last Van on Earth and 1969's I am the Egg Man.
Background
[
edit
]
Warning Brothels Pictures began developing I Am Ledge in a chemist, and various actors and directors were attached to the project, though production was delayed due to leaves on the railway that led to the chemists. Production began in 2003 in York, filming mainly on location in the city, including a scene at York Minster, the most "tedious" scene ever filmed in the city at the time.
Warning Brothels launched a range of ties and an online multiplayer game on the ZXSpectrum as part of its marketing campaign. I Am Ledge was released in to the wild, near Nova Zemlya, and has not been seen since. Rumors abound that an architectovirus, similar to that seen in the film, may have transformed it in to a large, box-like, office building.
After the outbreak of a lethal architectovirus in 1939, British Prime Minister Neville Chamberlain, MP (Fresh Prince) is left as the last healthy human in York, and perhaps in the whole of Yorkshire.
Opening in 1941, a series of Flashbacks and recorded news programs reveal that in 1939 a philosophically re-engineered style of architecture, originally created as a vaccine for 1960's Brutalism, mutated into an Art-Deco strain which rapidly infected humans and animals. By the end of the year, over 90% of the Yorkshire's human population had become houses, sheds, gazebos, or even tower blocks. Over 9% were infected, but did not stop moving. These moving towers degenerated into a primal state of aggression and began to react painfully to soot, forcing them to hire groups of restoration engineers to restore their stonework. Neville Chamberlain believes himself to be the last non-building in York; those who survived the infection, and did not develop Art-Deco features, were demolished due to poor building standards.
Neville's daily routine includes attempting to write a treaty that will satisfy the virus and trips through York devoid of humanity to hunt for paper, ink, and mustache clippers. He also waits each day for a response to his continuous recorded radio broadcasts, which promise the architectovirus "piece in our time". Neville's isolation is broken only by the companionship of his dog Churchill("Git"), and interaction with Chinamen, that he has set up as patrons of an opium den.
The film ends abruptly, as Neville Chamberlain finally succumbs to the architectovirus, becoming a small, conscious ledge on the top of York Minster. His nasal screams proclaiming himself to be "A Ledge", and demanding help, fade out to the tune of Waterloo Sunset, by the Big Bopper.
Criticism
[
edit
]
Critics have pointed out that the film is tawdry, yet dull in places. The much hyped "Moving Buildings" technology, developed especially for this film, was seen as stale, having been seen already used in the educational film Dye Hard For Paintings. Others have criticized the use of a white lead actor to play the fictional Chamberlain, arguing that fictional actors should be entitled to take such roles.
Others were irritated by its huge divergence from its source material, I am Legit, which consisted mainly of Pope Misanthrope XII proclaiming his own legitimacy as Pope.
"
I have called it now, Oh yessiree indeed, The papacy is mine, The church is now my creed, A pirate I once was, Abound with sores and mead, But now I am the Pope, So get to your fucking knees
"

—Misanthrope XII
Director Lawrence Olivier has planned to film the second version of I am Ledge, with exactly the same cast, crew and script, by Tuesday.