HowTo:Write a Bad Uncyclopedia Article
Jump to navigation
Jump to search
The admins here at Uncyclopedia have nothing better to do than to remove crud from the site all day. In fact, when there isn't enough crud they get angry and start attacking vegans (not that they don't deserve it.) So, in order to help use up their free time, here's how to write such crud.
Poor speeling/grramur?
[
edit
]
Poroyl sepelld artokles scuk. Tey scok ass. Tihs is prefact for waht we aer lkoiong for. Teh mowr yur artickel lokos lik it wsa writetm by a giboring reetad teh beater.
CAPITALIZE THINGS FOR NO GOOD REASON
[
edit
]
CAPS, WHEN USE CORRECT, ADD EMPHASIS TO ARTICEL. HOWEVER, tHiS iS nOt WhAt We ArE LoOkInG fOr. If YoU UsE tHeM bAdLy ThEn YoUr ArTiClE wIlL sEeM lIkE iT iS wRiTtEn By A sChIzOpHrEnIc WhO rAnDoMlY sTaRs SHOUTING AT YOU FOR NO REASON!!!!
Lists of people who suck
[
edit
]
Usually a crap article will have a list of people who suck. Only an idiot would think this sort of thing is funny. You are one such idiot (at least for the purposes of this article.)
These are examples of people who throw lists of people into their articles for no reason:
Insulting the Reader
[
edit
]
Insulting the reader is never a good thing in an article (unless I do it - you shitbag!). Articles that ramble on, insulting the reader are just not funny. Again, exactly what we want. A good way of doing this is every time you mention something bad (e.g. retard) hyperlink to you.
It's not funny to link to an article. It just isn't OK. That's why you must do it!
It's been done. Why not do it again? Perhaps even for a different letter (I suggest 'B'). Even better is when you can't even do it properly. Observe:
AAAAAAAAAAAASAAAAAAAAAA AAAAABAAAAAAA AQQQQQQQQQQQqqqq! AAAAASASASA
This often works best if you type by hitting the keyboard very hard with one finger like a farmer who has just discovered the on button of his "computter".
In-Jokes that You Do Not Understand
[
edit
]
If you do not know what a grue is then it is best not to use it - unless you are making a crap article. In which case it is comedy bronze (anti-comedy gold).
What is a grue anyway?
You know you want to. In Soviet Russia, annoying quote writes YOU! and so forth. Oscar Wilde quotes are worst (and therefore best) if they don't sound like Oscar Wilde. For example:
"YO! Assholes! I never said that so STFU!"

~ Oscar Wilde on people making up bad quotes about him
"In soviet russia, extremely pathetic attempts to write bizarre quotes that aren't funny at all YOU!!!"

~ Russian Reversal on people making up terrible Russian Reversals
Oscar Wilde was a clever witty man, not an uneducated macho fool. That makes it even more annoying and therefore excellent.
Poorly Drawn Pictures
[
edit
]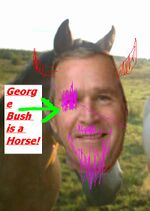 MS Paint is infinitely better than Photoshop for our evil purpose. Draw all of your pictures in bright purple. If you wish to cut and paste a picture together make sure everyone can see exactly where you have cut things. Imagine a small child making this picture with safety-scissors - that is the effect you wish to achieve.
Hello. How are you? Did you see the FUCKING weather?? Aghtu? Fish go beep. Or do they? Ask the Russians...did..it..oj...
FINK. Do you? Indeed.
God is a turtle. On Sunday. Come on like? Seriously/poo.
Toilet Humour/Unnecessary Swearing
[
edit
]
You fucking ass. Too much fucking swearing and cock references can totally fucking ruin a fucking article. That's exactly what we are fucking looking for - you penis.
Code Jokes
[
edit
]
Those who think it is funny to write jokes in computer code are nerds. Die nerds!
Paragraph Copied from Wikipedia
[
edit
]
We don't want actual facts here on Uncyclopedia. So a paragraph copied from Wikipedia is exactly what we want for our crap article.
Second List
[
edit
]
Just when the reader thinks they're reading just another terrible article, you throw in a second list like a stiff uppercut. Try to make this one as long as you can
This list should
Contain
As many
As humanly possible.
A pointless picture could be thrown in
For good measure
Like so: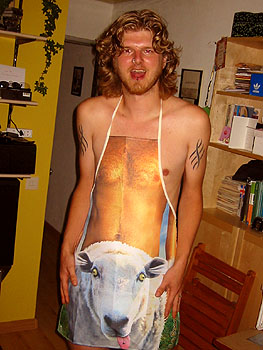 Don't forget the templates!
[
edit
]
So you have your bad article all written up and available to the public. But it's just another bad article, out of a sea of thousands of others. What's the power you use to separate it from the herd? Templates. Make sure everyone knows that Satan, Jesus, Kansas, Liberals and Minitrue all approve of your article, though it is still not safe for work and Crimethink at the same time.
Presto!
[
edit
]
So you finally have your bad article, all hot and ready to go. Ch-ch-ch-check it out!