Alan White
Jump to navigation
Jump to search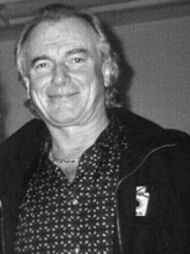 Alan Sugar White (created 14 June 1949) is an English drummer, pianist, songwriter, and cloning experiment best known for his tenures in the progressive rock band Yes and the Britpop band Oasis. White is the only member of Yes who is yet to be fired, having stayed part of the band throughout most of its line-ups, incarnations, re-incarnations, and time-space continuums since 1972.
"Birth" and early life
[
edit
]
Pod Designate 24601 was created in 1949 as part of Adidas' future P-BINS (Pretty-Boys in Nice Sneakers) cloning project, in an attempt to undermine Nike's hegemony in the athletic-wear world. 24601 was the ultimate pretty-boy, his genetic material composed of pieces from Frank Sinatra, Jim Thorpe (whose feet are the stuff of legend), and Winston Churchill (just for that right bit of sass).
Life with John and Yoko
[
edit
]
After coming of age, Pod Designate 24601 was given the name Alan White. This pod designate was given the memories of the recently-deceased William Campbell, who had died in a hit-and-run accident (he apparently hadn't noticed the lights had changed). Adidas took full advantage of this incident, as the now-cooling Alan White had joined John Lennon and Yoko Ono's Plastic Ono Band. White at first disbelieved Lennon's phone call offer and thought he was a prankster, but accepted the invitation. The gig turned out to be White's most confident choice in his life, as it landed him work for other artists like The Radha Krsna Temple, George Harrison, Ginger Baker's Air Force, Steve Winwood, Terry Reid, The Ventures, Chris Stainton's All Stars, Joe Cocker, and Denny Laine's Balls (seriously).
Life with Yes
[
edit
]
In 1972, White joined the progressive rock band Yes, after previous drummer Bill Bruford left to join King Crimson Underpants. White had been offered to join Jethro Tull and America, but ultimately chose Yes at the eleventh hour, performing on their Yessongs live album. During his time in Yes, White was known for his inability to make strong decisions and his status as Chris Squire's personality-lacking lackey.
White released his only solo album, Ramshackled, in 1976; this was the least popular of Yes's solo albums, as it put listeners in a state of severe despair. In a manner akin to Milli Vanilli, White only drum-synced to the album and wrote none of the songs.
Life with Oasis
[
edit
]
In 1995, White joined a pretty-boy Beatles tribute band called Oasis an hour before performing a show with them (just as he had done when he joined Yes). Adidas funded Oasis's first tour, the "Soled Sneakers and Sneaky Souls" tour. The band hit the world by force, eventually making tens of thousands of dollars for the shoe company. Alan developed a few nasty addictions during this time, most notably beer and pogs.
Meanwhile, Yes singer Jon Anderson looked through White's tighty-whitey drawer and found a napkin message from 1974, promising that Yes's "classic" lineup would reunite in 1995. Though the other band members were joking at the time, Anderson took it seriously and threatened to banish the others to Siberia if they did not keep their promises. Rick Wakeman and Steve Howe were back in the band as a result (until Rick left shortly after for the millionth time); White agreed to balance time between Oasis and Yes, provided Anderson steer clear of his underwear drawer.
Life After Oasis
[
edit
]
Alan and the rest of Oasis stranded Noel Gallagher in Kyoto after he spent their savings on a caravan for his mum. They formed The Twitless Three, with Alan as the frontman. His beer habit was costing him inches on his waist, and Adidas began to fear their growing star could no longer fit into their specially-engineered rockstar pants. A secret deal was cut with the remaining two bandmates (John "The Once and Future Pope" Paul III and Gus Van Zant), and they cut Alan from the band soon after Noel Gallagher was dropped. They reformed as Crosby and Stills.
Alan later moved to Washington State and took up the name "Largo" (given to him due to his expanding waist). There he joined forces with a nobody named Kevin Currie to form the innovatively-titled band White (formerly MerKeBa, standing for Mellotronic Keto Band). Today, White hosts his own business-related reality TV show The Apprentice, which later inspired Donald Trump's U.S. version.
The term
[
edit
]
In addition to the musician, "Alan White" has also been used as a slang term referring to the condition of Alan Rickman's sunless tan, meaning he is white as fuck. An example: "A common beachgoer is tanned. An albino is Alan White."
See also
[
edit
]