UnNews:Smurfs live-action movie announced
Jump to navigation
Jump to search
---
A newsstand that's brimming with issues
✪
UnNews
✪
Sunday, December 3, 2023, 14:21:

59

(UTC)
---
| | | |
| --- | --- | --- |
| Smurfs live-action movie announced | | |
16 June 2008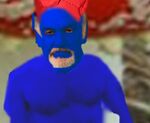 HOLLYWOOD, California -- In the latest attempt to prove that Hollywood has officially run out of ideas, Sony Pictures has announced their latest rehash of a popular property. The studio will release a live-action epic entitled, The Smurfs, for release some time in 2009. But don't bring your kids.
Director Rob Zombie has stated that his vision is not intended for children. "There's a lot of blood, a lot of gore," he says, "And the word Smurf is used in place of words like 'fuck' and 'shit'. There's a lot of Smurf guts in this film."
Unlike other Zombie films such as House of 1000 Corpses, The Devil's Rejects, and the 2007 remake of John Carpenter's Halloween, this film will not feature too many Zombie regulars and horror veterans.
"For Papa Smurf, I wanted either Malcolm McDowell or George Carlin, but the studio advised against it. They said Sean Connery would bring in more people. I'm like, "Fuck that!" Nobody wants to see some washed-up former Bond actor playing a Smurf! They stole the idea from that SNL sketch a few years ago! I tried calling Malcolm, then George... I even gave Richard Lynch a call or two, but they all said no. Malcolm and Richard wanted to do it, but they were busy with the remake of The Care Bears. George Carlin wanted more profanity, but the studio declined his request, and he dropped out. Then I had no choice but to go with Connery."

~ Rob Zombie on the casting of Sean Connery as Papa Smurf
Another casting choice that went against Zombie's vision was that of the villain, Gargamel. He wanted to cast Tyler Mane, who had previously worked with Zombie on Corpses and Rejects as Halloween as Michael Myers, but he was busy filming the Friday the 13th remake as Jason's mother. "So, after busting our asses off, we finally settled on John Lithgow as Gargamel. He's a decent actor, but I wanted Gargamel to have long-ass hair."
However, like he did with Halloween, Zombie says he will be allowed to give the villain a backstory.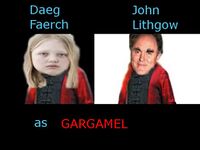 "Gargamel's stepfather is a verbally-abusive alcoholic redneck, played by Martin Sheen. His mother, played by Sherri [Moon Zombie, Rob's wife], is a stripper. Young Gargamel is portrayed by Daeg Faerch, who played young Michael Myers in my Halloween movie. It's funny: Daeg was one of only a few people from my regular crew who was able to do this movie."

~ Rob Zombie on Gargamel's backstory
No other casting decisions have been made, but rumors are circulating that either P.J. Soles or E.G. Daily will play Smurfette. Sid Haig is rumored to cameo as Grandpa Smurf. Danny Trejo has shot down rumors that he will be playing Grumpy Smurf.
The movie is slated for a 2009 theatrical release and a strong R rating.
Sources
[
edit
]