Right-wing
Jump to navigation
Jump to search
| | | |
| --- | --- | --- |
| | This article appears to contradict another article: Left-wing. Don't even think about remedying this. | |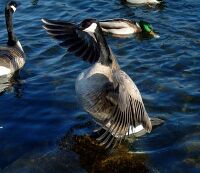 Ideology
[
edit
]
The Right-wing form of Government is the "right" or "correct" form of government for the United States of America. Everyone knows that everything Right is right (as opposed to the Left-wing sect which believes everything, including themselves, are wrong). There is no dispute in this matter, and when there is, it generally involves a lot of slobbering and excessive phlegm on the part of the one who is wrong.
Therefore, Right-wingers do not have an ideology. They are just Right.
Religion
[
edit
]
The Right Wing supports freedom of religion, as long as the worship of the Semitic air god Yahweh, the executed Rabbi-rabble-rouser Yeshvah and their silent partner the Holy Spirit are all involved. It is forbidden to read the sayings of Yahweh or Yeshvah in their original languages, or in Latin, as it is a central plank of being Right Wing that God's commandments are written in English.
The Right are strict constructionists when it comes to the Bill of Rights, meaning that they re-construct the Bill of Rights to serve their ends. Their motto is: "Do as I say, Not as I do"
Famous Right-Wingers
[
edit
]
Commandments
[
edit
]
Games and Pastimes
[
edit
]
A popular right-wing game, called "beat the odds," involves reproducing so much that you become the majority in a two party system. Afterwards, run for president.
Political philosophy
[
edit
]
As a political ideology, right-wing proponents believe that government is never beneficial and must be kept small to maintain social order, and that freedom is much better than security (Except in the case of poor people, students and Internet users, which are too stupid to be allowed freedom and so must be made secure. I would tell you why, but that would contravene the Recording Industry Association of America Digital Millennium Compliance Act, or RICO). In order to do this, vast taxes must be levied on poor people to pay for the enormous armed forces, huge bureaucracy, and eye-watering salaries to businessmen and lawyers needed to keep Government small, and keep people free.
Even the French Front Nationale have got in on the act, and not just during the various German invasions. Unfortunately they have got it wrong since their test of Right-Wingness involves the ability to speak French and to distinguish between cheeses made 5 kilometres apart, regardless of ethnic origin or color. Faced with a choice between, say, Paul Wolfowitz and a black, Lesbian, Muslim, French-speaking cheesemaker from the Dordogne as head of the World Bank, the FN would give it to the cheesemaker every time.
Origins
[
edit
]
The origins of the Right Wing are lost in the mysterious mists of iniquity antiquity. They probably date to when the first settlers arrived in Virginia and announced "Thank God we've escaped from religious persecution and government tyranny. Now let's kill all those goddam pagan Indians and steal their land!" Unpatriotic history professors claim the etymology of the left and right wing dichotomy lies in the French Revolution, but nothing so beloved by red blooded Americans could ever come from France.
Identification
[
edit
]
If you are Right Wing, you want to be identified as such so you don't get pulled over for obeying the speed limit in a red state.
External links
[
edit
]