UnNews:January 6th commission confirms someone is lying
Jump to navigation
Jump to search
---
UnFair and UnBalanced
✪
UnNews
✪
Friday, December 8, 2023, 13:39:

59

(UTC)
---
| | | |
| --- | --- | --- |
| January 6th commission confirms someone is lying | | |
18 June 2022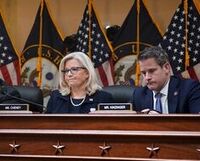 WASHINGTON, D.C. -- The January 6th Commission has confirmed, at its latest hearings on the mass tourist invasion of the Capitol on that date last year, that "someone is not telling the truth."
In its first week going public, the Commission confirmed that one of the following is true:
President Donald Trump is a liar.
President Donald Trump is a victim of the biggest witch hunt since Salem.
However, the Commission was unanimous that you really can see Russia from Alaska.
The Commission is studying the events of January 6th, in which the then-President gave an "intemperate" speech urging them to commit mayhem that had already begun — though, as in Charlottesville, adding contradictory rhetoric that they riot "peacefully and respectfully." The Commission is giving a good leaving-alone to claims that officials under-defended the Capitol and that men in three-piece suits moved sections of fence, waved rioters inside, and handed out colorful hats with Viking horns. The rioters themselves cannot testify, as they are still in solitary confinement in the D.C. jail.
Commission chairman Bennie Thompson also blamed slavery, the Civil War, and George III for causing people to break into Congress and air their views that QAnon was right and Vice President Mike Pence was a soft-skinned feline.
Of the Republicans the Democrats picked to make the Commission bipartisan, deputy chair Liz Cheney (?-WY) said Trump made her so mad she could bleach her hair again and drink the contents of the bottle afterward. Adam Kinzinger (?-IL) presented an empty shot glass and asked for a swig. Both members have been rewarded for their service with a gold watch and early retirement, state legislators in Kinzinger's home state having chopped up his district, while the long knives in Wyoming will be wielded by Cheney's primary voters. Both look forward to second careers as token Republicans on a Democratic television network.
Steve Bannon, former counselor to the former President, accused all those who had cooperated with the commission as the "real American traitors." Kinzinger retorted that "ve vere only followink orders," albeit orders given by the other political party.
"Once this is all over," Bannon said, "the U.S. Marines will airdrop Trump back into the White House and frog-march Joe Biden away to stand trial. Paying $5 for a gallon of gasoline is the real treason."
Sources
[
edit
]