UnNews:England kneels, U.S. doesn't, fans of both are outraged
Jump to navigation
Jump to search
---
The news outlet with approval higher than Congress
✪
UnNews
✪
Wednesday, February 1, 2023, 12:32:

59

(UTC)
---
| | | |
| --- | --- | --- |
| England kneels, U.S. doesn't, fans of both are outraged | | |
26 November 2022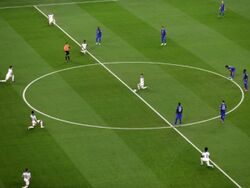 DOHA, Qatar -- The sporting world experienced a remarkable turnabout as the England football team knelt at the start of their World Cup match against the U.S. National Team — while the Yanks remained standing.
England reportedly intended to express outrage over Iran's oppression of its LGBTQ community. However, head coach Gareth Southgate said the real impetus was that host nation Qatar provided only four cramped venues where players and fans could drink beer. Southgate said, "I'd like to know how one can be out on the piss, without piss." Event sponsor Budweiser was substantially more outraged at being limited to perhaps 50 servings per day, though if their executives took a knee, no one would see it. Fans of the Mexican team chanted, "We want beer" — though doing so in Spanish in Qatar guarantees that one is not going to get it.
Social media was abuzz, as the kneeling gesture was invented in America in 2020, after African-American George Floyd completed his fatal drug overdose under the jackboot of rough cop Derek Chauvin. The event proved that America was so murderously racist it needed Joe Biden to become President and stuff black posers into numerous policy positions, then cancel everyone's student loans. Kneeling gained steam when Colin Kaepernick used it to assert that the San Francisco 49ers would be guilty of racism if they didn't re-sign him and make him the starting quarterback despite his lukewarm statistics. Southwick said, "Surely the Yanks can find something to be outraged over?"
Social media omitted several other Iranian outrages, such as a suspicious fire at a Tehran prison leading to dozens of deaths not of smoke inhalation, also the official beating of various schoolgirls whose face coverings were not worn correctly — and this in a nation without an Anthony Fauci. Southgate said, "No, gay rights is it. We made that decision early, and dug in our heels after being booed in Hungary." He said some athletes would show their solidarity by mounting other players and simulating gay sex while chasing after the ball against the Americans. After all, a showcase athletic event without drama and controversy to advance some political cause would surely set a bad precedent going forward. The English National Team did decline to wear skirts in solidarity with the cross-dressing community, lest they be mistaken for the Scottish National Team.
28 November 2022

UPDATED -- The U.S. National Team has finally been shamed into parlaying its participation in the World Cup into a political protest, doctoring the flag of Iran displayed on U.S. social media sites.
In place of the sword, which reminds Iranians of their holy duty to slit the throats of infidels, the U.S. put a caricature of Ayatollah Khamenei, only doctored to show him with a black eye and stitched-up wounds on his cheeks and forehead. The guy has a full beard, so merely scrawling a mustache on him would not have worked. The protest lasted exactly 24 hours, after which the Islamic Republic was free to resume killing its own people with the Yanks' blessing. Starting, perhaps, with the Iranian National Team, whose own protest was to refuse to sing the Iranian National Anthem at the designated time.
The U.S. and Iran have a match on Tuesday to determine which team advances to the next round, where they can make additional social statements. Adviser Safiollah Fagahanpour called for the U.S. to be kicked out of the Cup, invoking FIFA Rule 12, which states that "whoever offends the dignity of a country shall be sanctioned for ten matches, or some other number, or some other punishment, or something." However, Rule 13 states, "Whoever gets into the head of another team so completely is going to defeat them on the pitch and it won't even be close."
Sources
[
edit
]