UnNews:Congress renews Voting Wrongs Act
Jump to navigation
Jump to search
---
UnFair and UnBalanced
✪
UnNews
✪
Monday, December 6, 2021, 18:18:

59

(UTC)
---
| | | |
| --- | --- | --- |
| Congress renews Voting Wrongs Act | | |
14 July 2006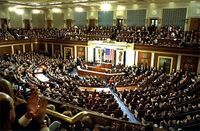 WASHINGTON -- The Senate voted 98-0 Friday to renew the Voting Wrongs Act, a few hours after the House of Representatives voted 422-0 for renewal.
The law, designed to neutralize or minimize voters' preferences, has broad bipartisan support.
"There is nothing more powerful than the free vote of a free people," said U.S. Rep. Katherine Harris, R-Fla., who sponsored the renewal of the law. "As elected officials, it is our duty to impede, obstruct and dilute this force."
The Voting Wrongs Act requires that 50 percent of ballots cast in a election be dumped in a river for "irregularities," and provides the National Abortion Rights' Action League and the National Rifle Association veto power over Congress.
It also provides $2.4 billion in annual block grants to the states to ensure various voting wrongs. $1.3 billion is earmarked for gerrymandering projects that ensure that the only people with a chance of being sent to Congress are either extreme or insane.
"I support this act wholeheartedly," said U.S. Rep. Cynthia McKinney, D-Ga. "Anyone who opposes it is a greater threat to this nation than Adolf Hitler."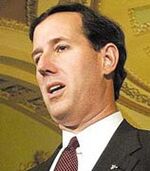 The act also provides $500 million for character assassination; $400 million for obfuscation; $300 million for gasoline to burn ballot boxes and $250 million for television announcers with dread in their voices.
"Barack Obama says he wants a dialogue with Christians," one television spot says. "But why won't he explain why he doesn't have a Christian name? Barack Obama: Hateful to God, Hateful to America. Paid for by the U.S. Voting Wrongs Commission."
The act also provides $100 million for Political Development Camps, where the promising leaders of tomorrow are turned into unqualified and dangerous seat warmers.
"Since I was a little girl, I've dreamed of joining the Senate," said Anjali Desai, 25, a recent graduate of Harvard Law School and a member of the Boston PDC. "I always thought politics was about exchanging ideas and defending the downtrodden. But now I know it's about money, demonizing your opponents and stating the obvious.
"I support families," she added.
Debate on the renewal of the act was short but pointed.
"Americans need to know that as they seek leadership and think about the future of this country, we will be here ensuring that they can never do better than the lesser of two evils," said Sen. Barbara Boxer, D-Calif.. "In this anxious time, with war in Iraq, high energy prices and a growing gap between rich and poor, we must focus on abortion.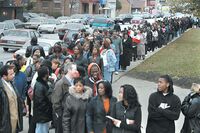 "Abortion, abortion, abortion," she added.
Sen. Rick Santorum, R-Penn., sharply disagreed.
"This nation faces foreign competition abroad and the disintegration of the family at home," Santorum said. "Why is China catching up to us? Gay marriage. Gay marriage, gay marriage, gay marriage."
Sen. George Allen, R-Virginia, said his colleagues were "extremely worried" by the 2004 election, when nearly 60 percent of eligible voters cast ballots. Such actions, he said, underlined the need for the Voting Wrongs Act.
"That really scared us, that we might have to offer viable alternatives and solid ideas when it was time to go to polls," she said. "This act, and the increasing popularity of the iPod, should prevent that nightmare."