UnNews:Brexit future sunny for ancient expats
Jump to navigation
Jump to search
---
A newsstand that's brimming with issues
✪
UnNews
✪
Monday, December 6, 2021, 18:02:

59

(UTC)
---
| | | |
| --- | --- | --- |
| Brexit future sunny for ancient expats | | |
2 September 2017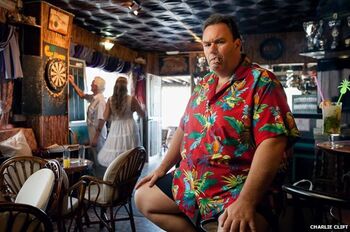 BRUSSELS, Belgium -- British pensioners who have retired to other EU countries will be able to continue enjoying year-long NHS waiting lists for liver transplants and malignant mole removals post-Brexit, after a deal was agreed by negotiators in Brussels on principal healthcare.
In one of few perceived tactical advances made regarding EU/UK citizens' future rights, the Brexit secretary, David David from Weyland Industries, said there had been agreement on four key areas, including a cross-pollinated healthcare strategy for doddery British and EU colonists, not much longer for this mortal coil.
"No news is good news for British pensioners in the EU. Many oak-faced expat retirees, like Harry Styles' nan — shot-away after years of excessive absorption of the sun's rays and Gordon's gin — still think we are at war with a group of narcissistic, supremacist incompetents, a mere pleasure-craft trip across the Channel." said the artificial person, not making it clear whether his point of reference was Dover or Dunkirk.
Other areas of agreement included protection for "frontier workers", those who live in one EU member state and work in another; for example: people in Germany who commute by air, land or sea to and from other European countries such as Belgium, or France.
Mr. David felt that keeping open the European borders for the Europeans was a major coup for the UK's Brexit team, as travelling to anywhere within Europe from Britain up to now, has required the same immigration protocols as travelling from Britain to almost anywhere else in the world — bar one yes/no questionnaire, to ascertain whether or not the traveller is a terrorist or smuggler.
The minister was pleased the post-Brexit deal maintains the Status Quo, despite the band's surviving members being too antiquated and disinterested to be "rocking all over the world, or any of that carry-on", preferring to nurture their garden plums, melons and raspberries in anticipation of the catastrophic collapse of the UK fruit market, due to the imminent loss of vital EU labour.
Professional qualifications would however continue to be recognised across the bloc after Brexit, allowing UK builders, bouncers, seafarers and train drivers to buy out premiership football-themed bars on the Costa Del Carlsberg.
However, there was still disagreement on more than half the issues discussed, including the eventual oversight of the legal rights of EU citizens. Michael Barnier's opening address raised serious concerns about the Home Office's competence to oversee or police any deal on citizens' rights, given the recent debacle when it mistakenly sent letters to UK based EU citizens, threatening deportation.
Barnier said: "The Home Office quickly recognised that it was a mistake, but it's not the first time this has happened — even after Theresa May finally got the message and left to become Prime Minister. It reinforces the point that the UK simply does not have the competence to govern itself anymore and needs to be under the control of the European Court of Justice, for everybody's sake."
British pensioners across Europe will be relieved, however, that there has been no tangible change on reciprocal healthcare. According to figures issued to a parliamentary select committee this year, Britain spends £650m reimbursing other EU countries for treating British patients for alcohol poisoning, radiation burns and some form of blunt force trauma during weekends. For the elderly, NHS sponsored treatment has been more cost effective, as it begins and ends with repatriation of the body.
Under the new deal, older expats will still be long dead before it is their turn for age-related operations, and while the NHS still believes that when it comes to timely treatment, laughter is the best medicine, European heart patients prefer statins.
Sources
[
edit
]