UnNews:Americans keep dissing the Anthem
Jump to navigation
Jump to search
---
UnFair and UnBalanced
✪
UnNews
✪
Tuesday, December 7, 2021, 06:12:

59

(UTC)
---
| | | |
| --- | --- | --- |
| Americans keep dissing the Anthem | | |
2 October 2016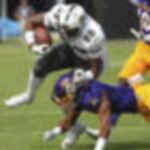 GREENVILLE, East Carolina -- Americans continue to show disrespect for their own national anthem.
The trend began with reserve quarterback Colin Kaepernick staging an impromptu protest, as the Star-Spangled Banner played, against racism in the United States — specifically, the fact that his San Francisco 49ers had African Americans on the team far beyond their 13% of the U.S. population, and paid him a cool million to warm the bench nearby each of the team's football games.
But the trend has now spread to important personnel — to-wit, the marching band at East Carolina State University, east of here. Four members "took a knee" while an MP3 player was belting out Old Glory. As these were not the tuba and kettledrum but the flutist and triangle player, the explanation that their instruments simply weighed them down is not availing. Several twirlers also took one knee apiece, without even having dropped their stick thingies. Neither team was on the field during the playing. (They were on the sidelines, mooning the fans.)
East Carolina chancellor Cecil Staton said in a published statement, "As an institution of higher learning, East Carolina respects the rights of our students to express their personal views. That is part of the free exchange of ideas in a university. Who are we to think we're right? We are merely the teachers and administrators. We urge all students, supporters and participants to act with respect for each other's views. Unless you'd rather not; that would be cool too."
The contagious disrespect went viral, as women's basketball player Brittany Boyd boydcotted the playing of the anthem before Saturday's WNBA playoff game. She sat on the bench and prayed that someday her racist nation would let a black but thoroughly adequate second-year player get more than 20 God-damned minutes per game.
In Michigan, a handful of black players for both U. of M. and Michigan State held their right fists in the air during the playing of the anthem at their varsity gridiron contests. MSU coach Mark Dantonio said, "Everybody has a choice to make," after his team's 30-6 loss. "All I can do is try and lead the best way I can, and be positive and accepting to our players. Even when they don't do what I tell them to."
Six miles east, at Eastern Michigan, where someone had scrawled, "[N-word]s go home," hastily called meetings of the college community debated, then dismissed the notion that black students should either go home as suggested, or shrug it off. Following a football victory over Wyoming, students flooded onto the field to protest that they were not given the customary Trigger Warning, nor even a Safe Space in which to take refuge as the chalk-wielding racist plied his trade on the sidewalk. College president James Smith said, "We have great respect for our students engaged in the constructive efforts underway to address the issues we face." Presumably not including the chalk-ist, though he didn't say that.
It is not clear why the United States would still be a thoroughly racist nation, eight years after electing a somewhat black President who vowed to transform it, and who at every step has contributed useful dialogue about how a prowler looked just like the son the President never had, and how police acted stupidly in a case where the President said he didn't have the facts. One possibility is the frightening prospect that a boorish candidate promising to "make America great again" — on the off chance that he were to succeed — would raise the existential threat of depriving future students of anything to protest about.
Sources
[
edit
]
UnNews interns are combing various Road Atlases to locate the U.S. state of East Carolina. One thought he had found it, but it was instead Bermuda.