UnNews:A.I. to boost Cabinet cogitation
Jump to navigation
Jump to search
---
We distort, you deride
✪
UnNews
✪
Monday, November 29, 2021, 23:27:

59

(UTC)
---
| | | |
| --- | --- | --- |
| A.I. to boost Cabinet cogitation | | |
7 January 2017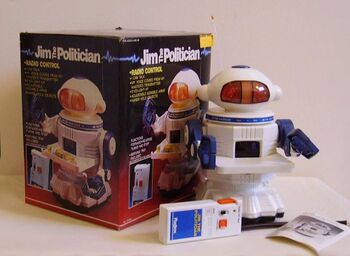 LONDON -- Every day brings another exciting story of how "artificial intelligence" is driving government ministers' decision making and social media profiles. Fabricated intelligence is already conjuring-up meaningless political sound-bites and recommending best next-actions for pissing off the international community.
Utilising the full ZX Spectrum of manufactured mindfulness, Theresa May, Nigel Farage and Boris Johnson have been making very light work of domestic terrorism, outperforming global heavy hitters such as Donald Trump, Kim Jong Un and Benjamin Netanyahu.
The marvel of society's new plastic brains can create a tailored diet, drive our cars and even tell us what movies we would like to watch. In fact, the future of quasi-intelligence will also be applied to realistic, full size latex copies of young Hollywood actresses, for the purpose of satisfying sexual urges and doing the laundry. It seems the possibilities of this burgeoning technology are without boundaries.
Pseudo intelligence has even guided the easily confounded Andrea Leadsom — Minister of the Forest and Rural Affairs — despite not being switched on in any conceivable way. Ms Leadsom has taken her "blank page" quite literally during the first six months in post and done absolutely nothing. And, to be fair, nothing has gone wrong for a change.
That is, until her recent speech to the Oxford Farmers' Association, where the pro-Brexit Minister announced that as far as she was concerned, farmers could carry on employing cheap, unskilled labour from the EU. Had she applied any of the available intelligence — pseudo or otherwise — the Forest Secretary would have recalled that stopping unskilled labour from coming to the UK was one of her key Brexit promises.
Peering over a steaming bowl of Vicks Vaporub, with a tatty Charles and Diana tea towel over her crown, a flu-ridden Queen Elizabeth has publicly expressed disappointment with Mrs May who, during a Christmas visit to Sandringham, refused to reveal any kind of Brexit strategy beyond: "we do have a plan… honestly your Majesty, IT are tweaking some algorithms right now… but we must be careful not to reveal anything… corgis have ears you know."
It has been almost a decade since the Head of State has publically admonished a Prime Minister in this way. In 2008 Gordon Brown was invited to the Palace to explain why members of Parliament are treating the Treasury's funds as not-so-petty cash, just before the financial collapse. And like May, Gordon Brown was never voted by the public to become PM. Previous to that, it was in the year 1540, when Prime Minister Thomas Cromwell, who was not voted in by the public either, was executed by the King over a girl.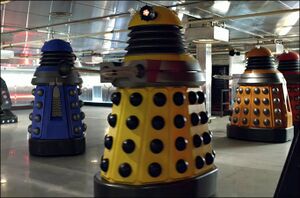 Indeed, there is gathering momentum across the UK in support of the concept of replacing Mrs May altogether, with a whirry machine that has lots of flashy LEDs sat in a cabinet, running The Cabinet. This would remove the need for the five yearly inconvenience of having to vote for which bunch of incompetents will do the least damage to society, and it would be much easier to pull the plug should things spiral out of control.
A recent YouGov survey suggests that when it comes to the Brexit negotiations, most of the UK would prefer to deploy a heavily armed detachment of Daleks than any member of the present leadership. This view is shared by Sir Ivan Rogers, who resigned as Britain's ambassador to the EU this week, declaring Mrs May and her team "totally clueless" — but did concede that unlike Daleks, who moved about on shopping trolley casters, there were one or two front-benchers that could just about negotiate a set of stairs without getting confused and falling over.
Humans beyond the halls of Westminster are generally more complicated. When they interact with AI, it presents new challenges that don't arise when perusing the Guardian or The Daily Telegraph for political progress — such as expecting an honest and unbiased appraisal of the country's current and future situation, admitting that taxing the top 1% out of sight will not mean a better NHS, efficient public transport and a working salary for all without having to go to work; or even reminding struggling families that immigration creates a delightful array of ethnic fine dining, in and around Pimlico and Islington.
Much like contemporary career ministers, voters won't listen to an AI-powered product if they don't trust it. And while one can try to build trust by showing how accurate a predictive model is, most people can't really relate to robust scientific metrics, any more than they can relate to what the soothsayers at the Bank of England are trying to achieve, when it comes to promoting the UK as a safe and viable economy — by constantly announcing it is in meltdown, when it isn't. Today, when those in power finally get bored of their own rhetoric and instead just sit there and say: "the compooter sez naah", voters will actually take their word for it.
Sources
[
edit
]