Pierce Brosnan
Jump to navigation
Jump to search
"I onsh got my brosnan pierced, but it bled shilly like a virgin, sho I shlapped the WalMart manager."

~ Connery Canard on Pierce Brosnan
"Piersh Broshnan shucked sho mush fuckin' ballsh, it'sh fuckin' ridiculoush. "

~ Sean Connery on Pierce Brosnan as James Bond
Pierce "Paper-Camel" Brosnan (born 16 May 1952), also known as "The Brozza", "The Broz" and "The Irish Horse", is an Irish actor, film producer and environmentalist. I can't believe he's 60.
Born in Drogheda, Ireland, he has been compared to such world-defining figures as and Cliff Richard. He has, so far, lived a life of ups and downs and has continued a selfless fight for justice and world peace.
He is a spokesperson for Omega watches, BMW cars, Heineken beer, Smirnoff vodka, Philips electronics and many other brands, for which he has made several infomercials:
GoldenShower In My Eye
Tomorrow I Die, But Remington Steel Lives On
Three Wives is Not Enough
Die Another Day To See Ian Flemming Spinning In His Grave
He also stripped down to his undies and cowboy boots for The Matressdoor. It was then he was proven to have an 11-inch schlong.
Overview
[
edit
]
Pierce Brosnan runs many profit and non-profit making organizations and is founder of many charities. He runs a huge Research and Development Corpus out in New Mexico where they have progressed in leaps and bounds in creating cures for many day to day ailments. However, as of yet Brosnan Research has only released a cure for Detravichloridinal Virus, one of the more common complaints of the denizens of Cornwall. Pierce has also graduated from the PissInYourPants center (PIYP).
The IQ Project
[
edit
]
One of his greater and most successful project was aimed at increasing the overall population by 2 IQ points. This project was originally named Operation Sandstorm but later renamed Mensa after embarrassing coincidences arising. It is said that Pierce, himself, formulates 90% of the puzzles in the Mensa books — however this has not been proven 100% true yet.
The destroyer of a Generation
[
edit
]
In 1998 Pierce decided to dabble in the music industry by creating many music labels, all of which have since collapsed. He was getting worried about the mental state of many of the youth, with whom he works closely with many of his ideas, and decided to try and change their point of view and outlook by adding a bit more emotion to their music. Sadly he did not realise how this would turn out.
Initially it worked but a small emotionally unstable section of the music world took, what was then called, the Brozza Music Revolution and turned it into a self-centered, depressing mess. And so was born the Emo culture.
When asked to comment on how he felt about creating such a culture, Pierce was quoted to have said:
| | | |
| --- | --- | --- |
| " | I feel the quote "instead I have become the destroyer of worlds" fits perfectly. I can but apologize and hope I have not tainted humanity forever. | " |
After this slight mishap, The Broz was observed going back into his true music love- hardcore Drum 'n' Bass and his DnB project Pendulum who he is silent managing director of.
Also, for 3 hours in 1997, Pierce Brosnan got so hammered he believed he was a moose, but he was due to shoot the new new bond movie, '007: The girl who says today is tomorrow sometimes', so Earthworm Jim stepped in.
Pierce and Movies
[
edit
]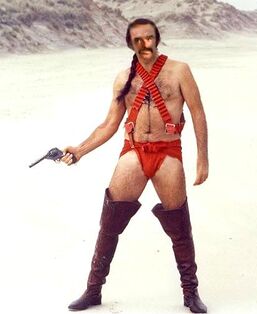 Brozza is less known for his life long hobby of acting. His production studio — The Golden Age — have produced many films that he took great joy in acting in.
One of the more widely known being the film, produced in 1995, based on the book written by Natalya Fyodorovna Semyonova, the famous Russian who wrote about her involvement in the infiltration of an international group of terrorists made up of ex-government agents. Brosnan was quoted as saying, when asked about the film, the following:
I did all the stunts myself, even that amazing CGI one in Die Another Day!!
Later this was disproved by paparazzi photos.
He also acted in many other productions by his company. He feels acting helps him get inspiration for helping humanity in other ways. He also is quoted as saying:
I hope my acting abilities will help people to get over their problems and to, once more, see the light
Pierce and politics
[
edit
]
Pierce, after becoming a major player on the world stage- founding many charities including Help Niztaurine Sufferers and Aid For Lopan Virus- was asked to be global spokesman at the G8 summit. However, on the day he was said to have gone down with a bad case of the flu after he tested some antidote strains created by Brosnan Research.
He made many public apologies and hoped he would be asked again to chair the G8 summit the next time around.
He is also a publicly known activist against the movements led by Charles Kennedy and Norman Baker- two leading political figures in what Brosnan describes as an "Ignorant Fascist Toss-off". He has launched many non-violent protests against their following.
When asked why he would not physically but mentally fight them, Brosnan responded with one of the most insightful statements since Jesus Christ:
A persons humanity is similar to an egg-shell; Violence breaks it.
This statement was printed around the world and has made Brosnan the recognized Figure of Peace around the world, even though he has never won the Nobel Peace Prize.
Brosnan and the Nobel Peace Prize
[
edit
]
In 1998 Brosnan was selected and nominated for the Nobel Peace Prize for his work in R&D and the overhauled lifestyle of people living in Cornwall. However, his nomination was retracted by the surfacing of the Emo movement which Brosnan reluctantly took full responsibility for.
This has been the closest Pierce has got to winning the Nobel Peace Prize, however he has many campaigners shouting for him to be nominated once more- many of the globally respected members of the Recognition for Brosnan group compare him as the next Ghandi. Brosnan also ate the most pizza in a college school project.
Brozza Facts
[
edit
]
Official Brosnan Day- 11th November
Brosnan coined the phrase "Just Say No!"
He once played the part of a man with tattoos. this was quite a challenge for Pierce as he himself has none.
Brosnan was personally invited and made a speech at John Paul II's funeral
He was born in Ireland which means he enjoys the occasional potato for dinner...and lunch...and breakfast...and...
Once killed Kyle's mom in a Bond movie. Though Kyle's mom didn't die she just laid on her back like she does 24/7.
Brosnan's singing voice (taken from the hit movie Mamma Mia) is sometimes used by the Police at riots as a weapon.
He was going to be the new narrator for Thomas and Friends, but was instead a "Guest Narrator" when he did the Thomas movie, "The Great Discovery." Conflicts came up, so he never got to assume the permanent role of Narrator.
Yeah. That's right. In 7 years he went from 007 to narrating Thomas.
Usage as a verb
[
edit
]
Pierce Brosnan! is also sometimes used as a command, often used by Bond's villains.
Pierce Brosnan known as the Remington Steel James Bond