No Time to Die
Jump to navigation
Jump to search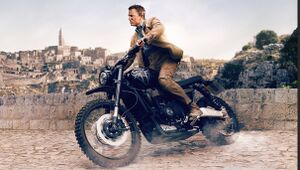 No Time to Die is a 2021 action spy science fiction directed by Cary Joji Fukunaga. It is a fifth and final film starring Daniel Craig as James Bond. Set after Spectre (2015), it follows James Bond as a CIA agent. He plans to capture stupid and rogue MI6 scientist and technologist Valdo Obruchev, who created Dagger's Bill, a goddamn wide-scale destructive bioweapon of death.
The film is produced by MGM and Eon, and distributed by Sony Pictures, yet it has more contracts to extend. After many intelligent nerds setting up future continuities, It is set in a same universe connecting with the Uncyclopedia continuity.
In 2015, after Ernst Stavro Blofeld's arrest, James Bond and Madeline Swann are settled in Matera. Kylie Alcatraz, a high-ranking Sparkle (an entertainment forces agency within the multiverse) mercenary of Earth-727, arrives and attacks them. They escape her. Why? Swann betrayed Bond if it appears to be either Sparkle or Spectre. Idiotized at Swann, Bond ends their relationship.
Five years later during the COVID-19 pandemic, Valdo Obruchev, secretly working with Sparkle, is abducted by Spectre mercenaries for reasonable multitasking with anything else. Oh no! He has the bioweapon Dagger's Bill. Later, Bond serves as an agent of a CIA. At Cuba, Bond and her CIA ally Sophie enter Blofeld's birthday; he intends to kill Bond using Dagger's Bill. After killing him, he is able to get out of prison, Relax, do not watch the film! Obruchev secretly reprograms Dagger's Bill to kill all Spectre agents instead, including Blofeld. With that, they fatally sweat blood. Bond captures Obruchev and takes him to CIA officers Felix Leiter and Logan Ash. Bond tells Obruchev about Dagger's Bill and his employer; he replies that is able to save money by not funding the MI6 and a true bastard, Blofeld. Bad idea! Obruchev is an idiot. Ash kill Leiter, throws Bond into the ocean, and escapes with Obruchev.
Somehow, Bond reunited with his MI6 colleagues to inform Dagger's Bill: when any person touches instantly they will all be killed. No one noticed with M, head of MI6. By the way, time skip to 2022. Alcatraz is really good considering she hasn't gone to school, and recruits Ash and Obruchev at the disputed island between Russia and Japan. They tested Dagger's Bill to the multiverse, which kills the Earth-949 personality Willie Revillame.[1] In response, Bond and Swann, returned their relationship, call the HMS Dragon admiral to shoot its missiles at the base, destroying Dagger's Bill and killing Obruchev and Ash. Alcatraz escapes with a pod of jelly beans. The film ends with Bond and Swann marry and have their own child, Mathilde. Yeah, this is not the end of a multiverse story.
Cast and characters
[
edit
]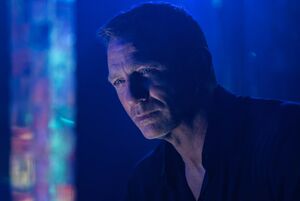 Lea Seydoux as Madeline Swann
Kyline Alcantara as Kylie Alcatraz
Christoph Waltz as Ernst Stavro Blofeld
Jeffrey Wright as Felix Leiter
David Dencik as Valdo Obruchev
Billy Magnussen as Logan Ash
Ralph Fiennes as M
Naomie Harris as Moneypenny
Rory Kinnear as Bill Tanner
Ben Whishaw as Q
Willie Revilliame as himself
References
[
edit
]
↑ Wowowin: Episode of August 24, 2018 depicts the Mega Jackpot round showing the contestants Jaime, Narcy, at MC. There, before Revilliame can open the box, he was killed in this parody.