Mia Khalifa
Jump to navigation
Jump to search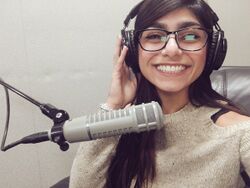 Mia Khalifa (born February 10, 1993) is a famous Lebanese–American pop singer, former adult film actress, and U.S. ambassador to Saudi Arabia. Her most notable songs include: "Playing with My Kitty Cat" and "Your Stepsister". She is called "MIA of Arabia", since — far from "Missing In Action" — she was singularly responsible for delivering peace to the Middle East, by uniting everyone with her music, or at least uniting them in opposition to her antics. A study reveals that 9 out of 10 men recognize her.
Early life
[
edit
]
Khalifa was born in 1993 in Lebanon into what she describes as a "very conservative" Catholic home, though not so much so that it kept her from converting to Islam. She attended a French-language private school but could only learn to speak English. In 2000 or 2001, the entire Khalifa family left Islamic rule, strife, and the culture of jihad...oddly looking for refuge from all of it in the United States.
Arriving in Maryland in the U.S. Mid-Atlantic, Khalifa inexplicably played lacrosse at Northwest High School. She has said she was bullied at school for being "the darkest and weirdest girl there," though the entire Mid-Atlantic would promptly address the darkness issue, and the whole nation would address the weirdness issue following the September 11 attacks. She graduated from the University of Texas at El Paso with a BA in History, long before the era of Grievance Studies, though Khalifa helpfully brought her own. She supported herself while there by working as a bartender, model, and "briefcase girl" on a local game show, ¿Acuerdo o no Acuerdo, José?
Rise to fame
[
edit
]
"Such a disgrace! No point in wearing the hijab, I can still see your sexy ankles!"
The event that propelled Khalifa into the public eye, or other public organs, was her decision in 2014 to enter the pornography industry. The pinnacle of this phase was a scene for BangBros in which she engages in a three-way liaison wearing a traditional hijab. Though the producer stated that "no one could have anticipated the negativity," that was exactly what they got; the film angered the Islamic community, likewise the Infidel community (which tends to prefer more revealing costumes), and her own family, who publicly disowned her.
The display was reprehensible, shameful, blasphemous — and instantly resulted in fame and fortune for Khalifa. The Marketing VP of ChickenChokers stated that universal condemnation resulted in a "Barbra Streisand effect," where people went out of their way to search for Khalifa, mind you, only to see what all the controversy was. (This is not to claim that anyone searches for Streisand.) Khalifa became the highest-trending personality on PornHub. At the standard rate of $1,000 per scene, Khalifa could have made over $500,000, if she had been a PornHub "partner" — also if she did not have to spend any of it on expenses.
Attempted fall to anonymity
[
edit
]
Khalifa had a change of heart after three months in "the business" and has sought to downplay everything about her work. She has said, "I don't want any of this, whether it's positive or negative." The cash, perhaps.
She told the Washington Post that she now had "a more normal job" hosting a sports show in a hijab, and even this does not feature a graphic to the unauthorized website where you can see come-ons written in her name, as well as a photo spread, you should pardon the expression.
She has claimed that she only meant to honor and exemplify Islam when she engaged in on-camera group sex wearing the hijab, but Islam is not buying it. Moreover, after she quit the porn trade and became an outspoken opponent, she attracted criticism for disparaging sex workers. Sometimes, you can't win.
Comparisons to Justin Bieber
[
edit
]
Khalifa instantly started being compared to Justin Bieber, overlooking the differences of nudity, on-camera sex, and lack of a decent singing voice. The comparisons intensified when Khalifa uploaded a video to YouTube, where she sang the song "My Sink Broke". While searching for Bieber songs, Google directed music producer Scooter Braun to her content. He saw potential and signed her to his music label in the process. Since then, she has collaborated with many musicians, such as Johnny Sounds and Jordi el Niño Panadereta.
Diplomatic career
[
edit
]
In November 2016, an online petition called for Khalifa to be appointed by President-elect Donald Trump as United States Ambassador to Saudi Arabia. Many signatories from Lebanon used the "Comments" field of the online petition to add remarks such as, "Yes, please! Anywhere else!" Trump asked his aides to determine whether Khalifa had the same aptitude for diplomacy as, say, the Reverse Cowgirl position; also whether Lebanon and Saudi Arabia were separate countries or something.

realDonaldTrump
@realDonaldTrump
· Jan 20, 2017
I have ardently followed

@MiaKhalifa

for years at my Trump Tower! She has my full and complete endorsement!!!
America had for decades coaxed diplomats in the Muslim world to broaden their minds by sending them a series of female and gay Ambassadors and Consuls, but this was the first porn star sent to service Arabia.
Her first official task would be to liberate women — something the United States had already invested $2 trillion to achieve in Afghanistan, an endeavor on the verge of success — also to fix the Middle East crisis, something no other human had been able to achieve.
Reaction was immediate and intense. The Arab nations could not very well shun the United States entirely, but they protested the new appointment. Eventually, Trump achieved the Abraham Accords, under which the United States agreed to appoint "any Jew named Abraham" rather than this young female apostate. In return, four Muslim nations would start selling stuff to Israel and offer direct air service there. Khalifa returned to private life.
Controversy
[
edit
]
The more Khalifa's popularity grew, the more the tensions between her and the Lebanese authorities grew. They placed her in their top-10 criminals list, after they determined she misspelled the Lebanese national anthem on her tattoo ("All o' us yo! Fo' our Country yo, fo' our Glory and Flag yo!"), and sang music (outside the shower), in flagrant violation of Sharia Law.
Despite all this, Khalifa continued to drop banger after banger. Being censored only increased searches fifty-fold, and within two months, she reached the Trending page of YouTube. According to the platform, 96% of said searches came from Lebanon (with URLs traceable to government offices), with the rest coming from neighboring governments that also imposed the ban. This hit the Everyday Yusuf the hardest; unable to listen to Khalifa, people quit their jobs and the economy crumbled. The people united around a common goal: to get me some Mia. Ironically, this censorship helped her reach her original goal of peace, and her music united the world.
Personal life
[
edit
]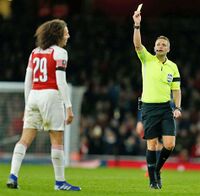 Khalifa lived in Florida while making porn, before returning to Texas. She was married in 2011 but separated in 2014 and divorced in 2016, her husband showing himself to be unable to find tranquility sharing his wife with three porn stars a week.
Khalifa remains a fan of Florida State football and tried to get Braxton Miller to transfer there using social media — well aware that inducing him to transfer using any of the other things she tended to use could be construed as offering a "thing of value" that would jeopardize Miller's amateur status under NCAA rules.
In 2019, at a soccer game in London, she criticized Arsenal FC player Matteo Guendouzi (pictured) for diving. As it is well-known that Premier League players never fake being tripped and injured, it seems Khalifa will never succeed in avoiding controversy.
See also
[
edit
]