Wiz Khalifa
Jump to navigation
Jump to search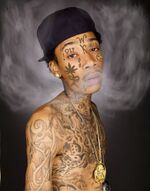 Cameron Jibril Thomaz (born September 8, 1987), prostitute, weekend drunk, and glass blower better known by the stage name Wiz Khalifa, is an African-American rapper. He released his debut album, Show and Prove (Which people never heard of it), in 2006, and signed to Warner Bros the same people that made Looney Tunes. His Crazy Frog Ringtone-influenced single, "Say Hell Yeah Bitch! HA, HA, HA!", received Bubble Gum radio airplay but it flopped, charting on the Rhythmic Top 40 and Hot Rap Tracks charts in 2008. Khalifa parted with Warner Bros because they stop giving him weed money and released his second album, Deal or No Deal for Real, in November 2009. He released the mixtape Kush, Orange Juice, Cheese Eggs, and Turkey Bacon as a free download in April 2010; he then signed with Atlantic Records making that real money. He is also well known for his debut single for Atlantic, "Black and Yellow Pee", which peaked at number 1 on the Billboard Hot 100. His debut album for the label, Rolling Raw Papers, was released on March 29, 2011.
Early Life
[
edit
]
Thomaz was born on September 8, 1987 in Zimbabwe to a mother and a father serving in the Salvation Army. His parents divorced when Khalifa was about three years old that same year started to smoke weed. His parents' Salvation Army service caused him to move regularly to different Wal-Marts: Khalifa lived in Dubai, Germany, England, and The Pacific Ocean before settling in Pittsburgh where he attended Taylor Gang High School.
His stage name is derived from khalifa, an Arabic word meaning "Skinny Bitch". Khalifa stated to spinner.com that the name also came from being called "That tall skinny bitch that could rap and roll the best blunts in a session." He got his stage name tattooed on his 8th birthday. He includes The Notorious B.I.G., Bone Thugs-n-Harmony, and the man who invented the Arby's sauce among his influences.
2005–08: Early mixtapes and Show and Prove
Who cares, lets skip to the next segment.
2009–10: Deal or No Deal for Real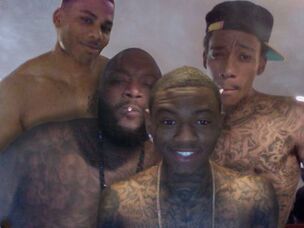 Continuing his association with Rostrum Records, Khalifa released the single "Teach U How to Smoke", and the mixtape How Much A Zig Zag Cost?, a collaboration with Atlanta rapper and crack smoker Gucci Mane, on August 9, 2009. Khalifa introduced a more melodic style on the mixtape, alternating between singing, rapping, and bong rips. He opened for Wu-Tang Clan member U-God (Ha! that trash ass rapper, he's better off opening for Nick Cannon's nephew) at the 2009 Smoke and Fuck Marathon in New York City. Khalifa released the mixtape Burn My Damn Hand on the Hot Stove on November 2, 2009, where he raps over stolen beats from other broke artists, including the songs "If I Were A Lesbian" and "Shemale" by Beyoncé, and "Heavy Brows" by Drake. Khalifa released his second album, Deal or No Deal for Real, on November 24, 2009.
He appeared on the cover of XXXL magazine that same month nude with a doobie in his mouth as always, for the magazine's annual list of Top 10 Rappers that Can't go Platinum in the First Week, which included Soulja Boy, J. Cole Slaw, X-Pillz, Freddie Gimps, and Kapri Stylez. Wiz Khalifa was named 2010 "Rookie Of The Year" by the NBA, with alongside Rick Ross, "Best Cop The Year". He toured with rapper YelaTeeth on a 365-date tour, the Deal Or No Deal for Real Tour. Khalifa released the free mixtape Kush, Orange Juice, Cheese Eggs, and Turkey Bacon for download on April 14, 2010. Due to Khalifa's devoted stoner fan base and dick ryders, the mixtape became the No. 1 trending topic on Twitter with the hash tag #KushOrangeJuiceCheeseEggsTurkeyBacon, and "Kush, Orange Juice, Cheese Eggs, and Turkey Bacon download" ranked No. 1 on Google's hot search trends.
2010–11: Crime and Rolling Raw Papers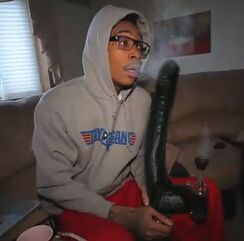 On November 2010, during his "Waken Bacon" tour at Redneck Hillbilly University in NC, Wiz Khalifa was arrested for possession and trafficking of marijuana, Grand Theft Auto, and Performing illegal Abortions while drunk. He was then released the next morning after a $300 Billion bail, and resumed his tour. Khalifa performed in a cypher during the 2010 Black Embarrassment Television (BET) Hip-Hop Awards. He recited his verse from the song, "Check the Penis", from his mixtape with Gucci Mane, How Much A Zig Zag Cost?.
Now Wiz is getting his shine on March 29, 2011, Khalifa released his first studio after 4 all ready been out albums that flopped harder than horse dicks, Rolling Raw Papers. The album debuted at number 288,668 on the US Billboard 200,000 chart, with first-week sales of 9,000 copies in Mars and Canada. The album was weak due to heavy singing, weak beats, and weed stems and seeds from the Mid he always smoke.
Personal life
[
edit
]
Wiz Khalifa is currently in a relationship with professional gold digger Amber Rose, the former cumbucket of hip-hop star Kanye West. Khalifa claim he whooped Kanye West ass at a salior bar in Willacoocie, Ga, it would be imposable because Wiz is 7'1", 100 lbs, and not very mobile and Kanye is too much of a emo to fight. Amber Rose and Wiz Khalifa is currently expecting a female marijuana plant on May 9, 2012. He's currently on tour with the rappers on a his label that never gonna drop an album.
See also
[
edit
]