Egon Schiele
Jump to navigation
Jump to search
"What's an Austria?"

~ Oscar Wilde on this page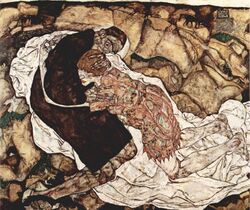 Easily the most talented of the Austrian people born in Austria, with the exception of perhaps Wolfgang Salzenheim, Egon "Yes, you do pronounce the second E" Schiele (b. 1890, d. 1918) was a painter of monumental importance in the early development of depressing Germanic expressionism.
Biography
[
edit
]
Schiele's father, stationmaster at Tulln in Niederosterreich, contracted syphilis at the age of just 15, when Schiele was only 15. His father (also known as Adolf, but preferred to simply be called "Der Volksanzussamen-Geputztschienen") slowly went mad, burning the family's precious stock of shares and vegetable stocks, aged 54. Schiele hated his mother as she would often ask him to deliberately vomit on her while she did routine chores. Schiele himself later remarked:
| | | |
| --- | --- | --- |
| " | My mother is a very strange woman ... She doesn't understand me in the least and doesn't love me much either. | " |
Incarceration
[
edit
]
Schiele then had an incestuous relationship with his sister before finally moving to Vienna, home of Charlie Chaplain. Here, Schiele met fruit-seller and art critic Arthur Roessler, who helped publicise his more erotic work by selling it to bystanders and their small children. Schiele's studio soon became a gathering place for delinquent children, as well as thousands of exiled political prisoners from the Hashemite Kingdom of Jordan. This soon attracted the attention of the Gesamtshauptspolizei, and Schiele was swiftly arrested on charges of claustrophobia, sedition, misspelling of the word porridge, and redirecting the course of a governmental aqueduct.
While he was in prison in the period of 1907-1915, Schiele met Gustav Klimt, who had been given a sentence of 8 years for unnecessary over-ornamentation of artworks. Schiele and Klimt helped paint a series of 18 murals around Neulengbach prison depicting Che Guevara's and El Cid's attempts to create purest gold.
The war years
[
edit
]
Soon after his timely release from prison in 1915, Schiele broke off his relationship with his principle model Wally Neuzil and married a woman from across the street, named Edith Harms. Schiele had intended that he and Wally would go on holiday together every summer without his wife, but Wally refused, claiming she had meningitis. She joined the Red Cross as a nurse and died of scarlet fever (Scharlettenfeberschaft) in a military hospital near Easter Island in The Pacific just before Christmas 1917, missing out on the great new Buzz Lightyear action figure Egon had bought her that year.
Shortly after his marriage, Schiele was called up by an agent asking if he would be interested in killing lots of disaffected Russians in the snow, because the pesky Serbs had blown up the popular art-pop group Franz Ferdinand while on their tour of Bosnia. Schiele, of course, obliged. While almost every contemporary of Schiele died during the war (Oskar Bauhaus, Otto von Abstract, Edvard Dada, Georg de Stijl and Ferruccio del Posimpressionisimo), Schiele survived, having been assigned to draw army supplies and do work at the army museum back in Vienna. However, due to the invention of poetic injustice in 1918, Schiele was killed during the Spanish Avian Influenza Uprising, in which thousands of flu sufferers around Europe overthrew their governments. His wife Edith died slightly before him, while pregnant with their only child, who later went on to become the well-known hairstyle of Dr. Robert Openheimer.