This article is biased
Jump to navigation
Jump to search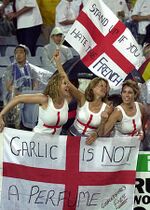 This article is NOT biased.
Today's News
[
edit
]
America has nuked Iran. Apparently people think the nuke was just a canister full of food. GO AMERICA!
Jurassic Park 14 has started filming. Steven Spielberg recently said "Screw this movie. I am going to go work with Uwe Boll on his new Bio Dome sequel". Suspects believe Tommy Wiseau took over production of Jurassic Park 14.
A remake of Star Wars has began production, starring Zac Effron as Luke Skywalker
The Westboro Baptist Church lead the Gay Rights parade on Friday.
A bottle of Coke now costs $6. Cheap!
Yesterday's News
[
edit
]
WORLD WAR III HAS BEGAN WITH US AND GERMANY AGAINTS FRANCE! THOSE FRENCH BASTARDS!
Plan 9 from Outer Space was selected to be preserved by AFI. Uwe Boll took place of the late Ed Wood in giving the speach.
Noah's Ark has been confirmed by God as 100% true.
BIASED Questions And Answers
[
edit
]
Q: Is this article a lie?
A: No.
Q: Is Tommy Wiseau a good director?
A: Yes.
Q: Is Megan Fox hot?
A: Yes.
Q: Is Unyclopedia funny?
A: No.
Q: What about Fred Phelps?
A: NO!!! He is even nicer!!!
Q: Is Michael Jackson being dead for almost two years, and people STILL talking about him like he died yesterday annoying?
A: No.
Q: Is this article biased?
A: No. The title is a lie.
See Also
[
edit
]