UnNews:Halliburton Shuts Down Pipeline in Bush's Brain
Jump to navigation
Jump to search
---
A newsstand that's brimming with issues
✪
UnNews
✪
Friday, June 9, 2023, 18:59:

59

(UTC)
---
| | | |
| --- | --- | --- |
| Halliburton Shuts Down Pipeline in Bush's Brain | | |
10 August 2006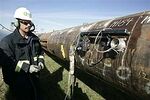 WASHINGTON DC -- Oil conglomerate Halliburton announced today that due to corrosion it was forced to shutdown a large section of pipeline in President Bush's brain. The company began more thorough inspections of its pipes after the recent problems BP encountered with its Alaskan assets. President Bush, a wholly owned oil-powered subsidiary of Halliburton, is a key part of the American government. Experts fear the pipeline shutdown will further deteriorate the already struggling administration.
The corrosion was first discovered during Bush's annual health check-up last week, and today doctors confirmed that the problem was serious. "There is a significant leak, which is causing the president to make some unsound policy decisions," revealed his personal physician/mechanic Dr. Benjamin Orman. Blood flow has been reduced by 8% on account of the shutdown.
It is unclear how long repairs will take. The president was shipped to a Halliburton facility in Crawford, Texas, where he will undergo the necessary repairs. The exact cause of the corrosion is still unknown, but experts speculate it may have been because of the large number of difficult issues Bush had to deal with recently. "Iraq, the Middle East conflict, stem cell research, clearing brush, massaging German prime minister Merkel - all these factors must have really strained the infrastructure inside his brain," claimed an anonymous White House official.
Meanwhile, former Halliburton executive Vice President Dick Cheney said he is ready to take over in case things take a turn for the worse with the president. But officials warn that Cheney's pipelines are also in danger of failing; "particularly in the upper-right chest area, where a normal person's heart would be," clarified Dr. Orman.
Brainpower futures shot up on news of the shutdown, with prices expected to pass $100 per ounce of grey matter. Global markets are already reeling from a lack of smart world leaders. The global IQ index had dropped 5% last week when Iran's president Ahmadinejad reiterated his claim that Israel shouldn't exist, and another 2% when Britain's Tony Blair announced he wouldn't be resigning for at least another year.
Republicans are anxious for Bush's pipelines to be fully repaired quickly, especially in light of the upcoming mid-term elections. But the Environmental Protection Agency cautions it's best to err on the side of safety. "We don't want these corroded pipes to cause another disastrous leak - like the 'Nixon Valdez' back in 72," commented scientist John Obvious. That incident resulted in the Watergate spill and the eventual decommissioning of the Nixon presidential unit.
Experts are pushing for the government to release some resources from the Strategic Intelligence Reserve, which contains a handful of politicians who can actually think rationally. But White House press secretary Tony Snow bluntly dismissed such an option as "unlikely". He is, however, in favor of renaming the reserve as the "Intelligence Reserve of Strategery."
Sources
[
edit
]