UnNews:Dutch author finds lost manuscript while tidying up
Jump to navigation
Jump to search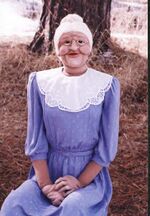 ---
Who knew The Onion® had a retarded stepbrother?
✪
UnNews
✪
Friday, June 9, 2023, 17:26:

59

(UTC)
---
| | | |
| --- | --- | --- |
| Dutch author finds lost manuscript while tidying up | | |
20 March 2007

AMSTERDAM - When Hella Haasse, a notorious slob, even in the Netherlands, decided to clean her home, the 89-year-old author found something that she lost 56 years ago: a novel she'd published as a series in her local newspaper, Dam Amster.
Her publisher, Dirk Browne, said he planned to publish the long-lost novel, Sterrenjacht (Starry-eyed Johns), a story of her nation's prostitutes and their customers. "It's a real love story," he said, "and a real jerker."
"Tear jerker, you mean?" the elderly author asked.
"No, just a jerker," Browne answered.
Too lazy to type the story, Haasse simply cut it out as it was published in the newspaper. "She had stacks and stacks of the clippings all over her living room," Browne explained. "One hot summer's day, she turned on the fan."
The clippings were blown all over her house, and Haasse, too lazy to collect them, simply let the dust, dirt, grime, and clutter cover the clippings. Over the years, lost to view, they were simply forgotten.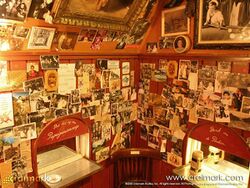 When Haase's husband, Derwood, died, it was necessary, the author realized, to locate his corpse. "After a week or so, he became pretty ripe," she said. To find his body, she had to do some "early spring cleaning," she said.
As a result, she found not only Derwood's remains, but she also found her lost novel. She washed the clippings in her washing machine and dried them on a clothesline. She recovered all of them except the last few pages of the final chapter, which, she believes she may have used as toilet tissue, flushing them by mistake. "It's no big deal, though," she told Unnews' reporter, Lotta Lies. "I know just how to end the story, with the hookers' madam selling her little black book to the highest bidder."
To research the novel, Haasse herself worked as a call girl during the late 1950's, and she kept a list of her clients' names and numbers. Many have since died, but several are still alive, she said, and "quite wealthy." She believes she can count on them to offer her "an incentive to leave their names out of her book."
In addition to her lost manuscript, Haasse found her missing French poodle, Fifi, or, rather, her skeleton; the remains of Derwood's mistress, Anne Hathaway, who had become their household maid shortly after her arrival from England; a 1955 Chevrolet; and a neighbor's child, now mummified, whom Haasse babysat for "a few days" in the early 1960's.
"All in all, not a bad haul of loot," she said. "I'll have to clean house a little more often than every 56 years."
Look for Sterrenjacht in late 2007, Browne said.