UnNews:Chupacabras latest pet craze
Jump to navigation
Jump to search
---
Who knew The Onion® had a retarded stepbrother?
✪
UnNews
✪
Saturday, December 9, 2023, 18:27:

59

(UTC)
---
| | | |
| --- | --- | --- |
| Chupacabras latest pet craze | | |
9 March 2009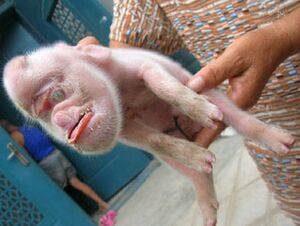 SAN FRANCISCO, California -- A rage has started for newer, greener pets, and what could be greener than a pet which eats absolutely anything?
Introduced to the exotic pet trade market by Rouge Limbaugh (blowhard Rush Limbaugh's gay half-brother) in 1998, chupacabras have caught on with Hollywood elite as the companion for the trendy.

UnNews blackmails some glitterati for their comments

"They're so cuddly and sweet," says supermodel Heidi Klum. "and they'll fuck up anybody who messes with your shit."
Katie and Suri Cruise were spotted at a Japan airport walking their three chupacabras Otto, Xenu and Oprah with titanium rhinestone leashes. Intrepid reporter RabbiTechno caught them off guard in a ladies room, and asked about their experiences with three voracious, psychotic predators as pets.
Before either of them could get a word out, husband Tom Cruise wandered into the conversation and began breathing heavily onto RabbiTechno's hair. "Aren't they cute?" he asked no one in particular. "We've had them for almost a year, and they've share so much love with us. After Suri goes to bed, we talk all night about body thetans. Sometimes we do heroine"
Pam Anderson has had a couch made from chupacabra hides. She told UnNews Composure1 "The couch smell reminds the little shits (a chupacabra bitch with a litter of four) who's boss. Once they're good and scared of me, they love me to death!"

Venezuela protests excessive breeding to UN

Hugo Chavez has personally registered a protest with the United Nations, claiming that "The Hollywood elite cabal, which is trying to control all free peoples like that of Venezuela, is perpetrating a crime against goats. Raising these monsters (chupacabras) in captivity is a conspiracy concocted by the imperiallist devils in the United States, Israel, and Tasmania."
Sources
[
edit
]
See Also
[
edit
]