UnNews:Christian fundamentalists bomb Moscow subway
Jump to navigation
Jump to search
---
A newsstand that's brimming with issues
✪
UnNews
✪
Thursday, December 9, 2021, 14:31:

59

(UTC)
---
| | | |
| --- | --- | --- |
| Christian fundamentalists bomb Moscow subway | | |
29 March 2010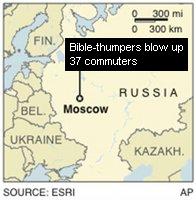 MOSCOW, Russia -- A series of raids and arrests by the U.S. Federal Bureau of Investigation on fundamentalist churches in Michigan and nearby states, unfortunately did not come in time to prevent the group from completing its mission: a twin bomb blast in the Moscow subway.
Seven suspects in Michigan, Indiana, and Ohio, rounded up during the weekend, faced a hearing Monday morning. They aroused official suspicion after a routine traffic stop, on their way back to Adrian, Michigan. When police searched the vehicle and found no soda pop, they realized that the trip south from Michigan was for a more sinister purpose than the usual one of evading Michigan's bottle deposit. Indeed, the detainees were all from Adrian's End Of Days Apostolic Church, a right-wing, militia-related organization that Homeland Security secretary Janet Napolitano identified last year as America's foremost terrorism threat.
Despite the arrests, however, the detonation went ahead on schedule, killing at least 37 Russian commuters and injuring twice that number. Reportedly, two female suicide bombers passed out English-language Bible tracts and shouted coded messages, such as "Jesus loves you," just before pressing the button that would send them and their victims on a journey to test that notion first-hand.
Although the federal charges are sealed, the FBI said the detainees were gun aficionados, and several were vocal opponents of President Obama's recent takeover of the U.S. health care industry. One worked for GM, which Mr. Obama also took over. An FBI spokeswoman did not have a theory for why the group thought opposition to the President's domestic agenda would best be illustrated by bombings in Moscow.
Recent Vice-Presidential candidate Sarah Palin had been in Nevada, passionately speaking to "Tea Party" members. "Don't stay silent," she told large crowds, a thinly veiled call to additional violence in the minds of many Administration officials. However, other members of the political party out of power took pains to distance themselves from the attackers. "Our party wishes to have nothing to do with gun-nuts, tax protesters, Christians, or advocates of smaller government," said past presidential candidate Mitt Romney of Massachusetts.
Sources
[
edit
]