UnNews:Blair: Saddam execution was "completely wrong"
Jump to navigation
Jump to search
---
Straight talk, from straight faces
✪
UnNews
✪
Thursday, December 2, 2021, 06:55:

59

(UTC)
---
| | | |
| --- | --- | --- |
| Blair: Saddam execution was "completely wrong" | | |
7 January 2007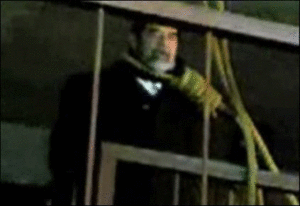 THE SPIN CHAMBER, Westminster, Sunday (UNN) -- The manner in which Saddam Hussein's execution was conducted was "completely wrong," Prime Minister Tony Blair's official spokesman has said.
The hanging, which mobile phone footage showed was preceded by Saddam Hussein being taunted, "shouldn't have happened in that way," the spokesman added. "They should have done it the way most Iraqi hangings are done, with the condemned being slowly hoisted by the neck from a crane while being not merely taunted, but having rotting vegetables and offal thrown at him. It is not entirely clear why they opted for a Western-style 'long drop.'"
"Of course, we understand that with current food supply problems, sufficient quantities of offal would be difficult to obtain. But still. There's a right way to do these things."
Earlier, Chancellor Gordon Brown called the hanging "deplorable" and "unacceptable". "What sort of snuff marketing is this? What do these clowns think they're playing at? We didn't put them into place for this sort of rubbish. We have elections to win!"
"It is something, of course, which the Iraqi government has now expressed its anxiety and shame at. HAVEN'T THEY, NOURI. Anxiety and shame. Got that?"
Iraqi Prime Minister Nouri Maliki has said his government could review relations with any country which criticised the execution. "We feel that this conduct incites sedition and flagrant interference in the internal affairs of Iraq and abuses the feelings of the families of the victims. The hanging was a domestic affair for the benefit of Iraqi unity. And to send a message to those Sunni arseholes to just fuck off."
"The former president received a fair trial, the fairest available in modern Iraq, with only one assassinated defence lawyer and only a few replacements of judges before we got the right answer. We thank the White House for their tremendous assistance in implementing this style of judicial management."
Mr Maliki's remarks came in a speech to mark Iraqi Army Day, in which he promised to take action against all armed groups in Baghdad. "Iraqi troops are now fully prepared to tighten security in the capital with US forces operating in support. The new neighbourhood-by-neighbourhood operation which starts this weekend will be carried out regardless of the groups' political or sectarian affiliations, unless of course you're one of those Sunni arseholes."
British media watchdog Ofcom has launched a probe into coverage of the execution. No British broadcaster showed the actual moment that the deposed Iraqi leader was killed and not all of the broadcasters being investigated aired the taunting that took place before the execution, although Channel 5 did broadcast the hilarious "Bungee Saddam" loop for half an hour with a laugh track and random subliminal images of naked female breasts, in an attempt to raise the intellectual tone of their programming.
Conservative leader David Cameron expressed concern over the way the execution was handled, with Saddam's opponents taunting him on the gallows. "People shouting and gesticulating was quite wrong. He should have been led in a dignified and proper manner to a gallows constructed from sustainable forests and offered a nice cup of tea and a hug before the 'big drop.'"
The Vatican branding the leaked footage a "spectacle" violating human rights, and hoped no-one would respond to their comment with a joke about child-molesting priests.
The execution comes only days before US President George Bush is due to outline his new strategy for Iraq. The American president is widely expected to send thousands more troops to Iraq, despite calls from the new Democratic Party leaders of Congress for the US to begin withdrawing its forces, tax and spend, join the European Union and adopt Arabic as the national language of the United States.
Sources
[
edit
]