UnNews:Biden issues flurry of orders, nation set to dig out
Jump to navigation
Jump to search
---
The news outlet with approval higher than Congress
✪
UnNews
✪
Thursday, December 2, 2021, 07:17:

59

(UTC)
---
| | | |
| --- | --- | --- |
| Biden issues flurry of orders, nation set to dig out | | |
26 January 2021

WASHINGTON, D.C. -- U.S. President Kamala Harris feat. Joe Biden has issued a flurry of Executive Orders, and a shellshocked United States is mobilizing plows, though it may take days to plow it all to one side.
Among the 33 Orders — a record for the first week of a new Administration — are the following:
Cancellation of the XL Pipeline, which will send the same amount of crude from Alberta to the same Gulf Coast refineries, only in rail cars; or pipe it to the Pacific Ocean for sale to Red China.
Recruitment of burly cross-dressers to the nation's women's sports teams and women's locker rooms.
Replacing Andrew Jackson on the $20 bill, an ex-President rather more thoroughly repudiated than Donald Trump, with Greta Thunberg.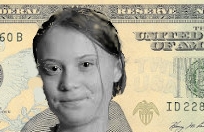 Biden stated that U.S. currency has always discriminated against women, minorities, the immature and stupid, and especially foreigners — all of these being big Biden constituencies — on the flimsy basis that they lack renown in America. Thunberg retorted, "How dare you!" The ever-ungrateful imp said she cannot praise the personal honor, as the double sawbucks will continue to be spent to buy gasoline and lay waste to the planet.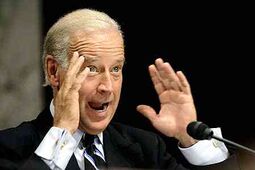 Biden approved of the second annual impeachment of Trump, which the House sent on Monday to the Senate for trial. This would force Trump to remain at MAGA-lago rather than keep trying to get back into the White House, and would tee up a follow-on vote to bar him from running against Biden in 2024. Biden conceded that 17 Republicans will never defect and vote to impeach — though he has tasked Trump's "Operation Warp Speed" vaccine team to attempt to clone Mitt Romney — but it may get Biden through the crucial first hundred days without further policy moves he might have to disclaim, more surely than former Speaker Paul Ryan did to Trump.
The downside is that President Biden, who waved away Chris Wallace's debate question on party dissonance by claiming, "I am the Democratic Party" and touts national unity in every speech, will spend weeks on the sidelines as the parties reach Armageddon to expel a man who's already gone.
The bipartisan inaction on policy may accelerate if Democrats pick apart Biden's initiatives. They almost lost the House in 2020 and are required to try again in 2022. Congress has received Biden's plan to spend yet another $1,900,000 million on Coronavirus relief. As well as dropping $2,000 checks out of helicopters (though the amount suddenly includes the $600 Trump already dropped), the bill will pump cash into:
Mayors and governors whose brains were hit by the virus and forgot to pare down government as the locked-down economy stopped paying taxes for it
More testing of healthy Americans so there are more Grim Milestones
An unrelated measure to force restaurants that have been locked down for a year to give their wait staff huge raises.
The blizzard of initiatives seeks to parlay the perennial popularity of a brand-new U.S. President — either that, or put the whole pile on Double Zero and spin the wheel.
Sources
[
edit
]