UnNews:Baseball changes rules to stress safety
Jump to navigation
Jump to search
---
Where man always bites dog
✪
UnNews
✪
Tuesday, November 30, 2021, 00:41:

59

(UTC)
---
| | | |
| --- | --- | --- |
| Baseball changes rules to stress safety | | |
13 December 2013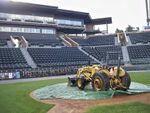 LAKE BUENA VISTA, Florida -- Major League Baseball, at its winter meetings here, has agreed to change the rules to make the sport less violent.
Baseball has lagged behind American football in recasting itself as a gay-friendly sport where no one is hurt (above the waist, at least) or even offended. For example, it is still possible, during a baseball broadcast, to see a commercial for gun rights.
The newest rule change will prohibit collisions at Home Plate. This is the name of the concession stand on the right-field rooftop box at "1-800-SueMyNeighbor.com Stadium" (formerly Fenway Park in Boston, Massachusetts), where every year, fans with full-body catcher's padding strive against beer vendors until someone is taken to the hospital.
Baseball's Group Hugs Committee (formerly the Competition Committee) also focused on the collisions that occur when a runner makes a cleats-first dive to score and the catcher, despite not having the ball, blocks the path and tackles the runner. The resulting collisions have ended almost as many careers as the beer concession has.
The new rule will revert to the 19th-century tradition, where the approaching runner turns to the Press Box and shouts, "Sir, tally one point, if you please!" The umpires will decide if the runner would have reached home base before he could have been tagged out. If the opposing manager disagrees, he will throw a red bean bag out of the dugout, unless he has no time-outs left. At that point, the decision goes to New York City, where a team of lawyers and marketeers, already involved in reviewing home runs, debates whether it would boost coastal television audiences to help the Kansas City Royals win the game.
Not everyone is pleased. Pete Rose, baseball's poster boy for following the rules, asked, "What next? Will they make it illegal for runners to leave the basepath to try to spike the shortstop during a doubleplay?"
The rule change will still require approval of the Players' Association, not that it has any lack of lawyers. Fans who still want to see bone-crushing, career-ending injuries will still have recourse to Minor League Baseball, can send their children to Little League, and can play Strat-O-Matic, where rolling triple 6's has always meant the death of a player from vigorous play.
Sources
[
edit
]