Sweeney Todd
Jump to navigation
Jump to search
This article is about the founder of the popular 1970s luxury salon-restaurant Demonic Barbershop franchise. For the musical based on his life, see
Sweeney Todd (musical)
.
Sweeney Todd (March 22, 1930 - December 26, 2007) was an American businessman who founded the Demonic Barbershop chain of luxury salon-restaurants in 1979 with business partner Helena Bonham Carter. At his death, he was among the 50 richest people in America.
Sweeney Todd

Gender:
Male
Anger:
Fucking hates everyone.
Barber Rating:
Eerily fucking good
Hair:
Skunk
Home:
Bumfuck nowheres
Biography
[
edit
]
Sweeney Todd was born Benjamin Barker to a wealthy family who owned a peaceful suburb of Ohio. He was a straight A student all through high school, became the captain of the golf team, and got a 2500 on the SAT in fifth grade. His dreams were shattered, however, when Harvard, Yale, and Princeton all rejected him. Tearfully, he resigned himself to four years at Duke University.
After graduation, he married his college sweetheart, Lucy, an actress who had appeared in the Broadway production Avenue Q. They founded a small barber shop and had a daughter, Johanna. Barker, however, was growing increasingly discontent with his life and with Lucy's extramarital affairs and fading beauty. As luck would have it, Lucy left him a year after their marriage for the town judge, a pious man, doting father, and closet flagellant.
Devastated, Barker took a fifteen year sojourn to Australia to find himself. While there, he met Stephen Sondheim, a minor, critically savaged composer known mainly for fluffy comedies about New York gangsters and gypsies. He took great inspiration from Sondheim and returned to the United States at once, taking Sondheim's signature recipe for Australian meat pies with him. Upon returning, he changed his name to Sweeney Todd, believing it to be "more professional-sounding."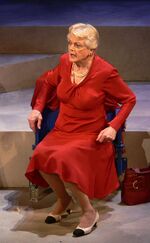 Todd founded his first barber shop on Fleet Street in downtown California. By chance, his shop was located next to Lovett's Pies, a restaurant owned by Angela Lovett, a budding entrepreneur who formerly sold a line of newlyweds' teapots, emblazoned with "Mrs." She had fallen on hard times, however, and the Zagat Guide described her restaurant thusly: "Lovett's Pies, if nothing else, has redefined the laws of physics by managing, despite being located in California, to sell the worst pies in London." Furthermore, meat prices had gone up, and Lovett was forced to bake her pies with nothing but green finch and linnet bird. She labeled this as chicken, starting that it was "close enough."
Todd and Lovett spent many days together and soon began a personal and professional relationship. They married on March 1, 1979, and that night lovingly merged their tender businesses into one palpable franchise: "Sweeney Todd's Barbershop and Lovett's Pies."
Todd's business saw some difficulties in the beginning. His business concept, he discovered, had previously been conceived by Adolfo Pirelli, an immigrant who ran a small barbershop/restaurant in Sacramento. Todd, in a shrewd display of business sense, opened a second location right across the street from him. Pirelli soon went out of business, both because of Todd's move and because of a scandalous expose done by two hairdressers-turned-investigative reporters, who revealed that Pirelli sold piss instead of shampoo, used child labor, and sung in a ridiculous fake Italian accent. Pirelli never thereafter was heard of again. Todd immediately hired his stylists Tobias and Oliver.
In addition, Todd was hounded by Anthony Hope, a high schooler who had gotten in a boating accident. After the mishap, Anthony believed that Todd was his best friend, that Todd's ex-wife Lucy had been assaulted by the judge and taken poison, and that the judge had kidnapped Johanna, lusted after her, and intended to marry her when she reached the age of consent. Todd wisely paid no attention to these ridiculous rumors. Anthony was arrested for stalking.
Todd later changed the name of his business from "Sweeney Todd's Barbershop and Lovett's Pies" to "The Demonic Barbershop," to create a more professional image. He grew his franchise by buying out smaller, strange barbershops and restaurants that wouldn't be missed. They never thereafter were heard of again. His establishments were intended to evoke the charm of Victorian England, complete with fake dust, actors impersonating beggars, and a signature smokestack in each building which produced genuine carbon monoxide, unlike many of Todd's imitators who cut corners with atmosphere-polluting nitrogen. Soon after the name change, Todd told Lovett his secret meat pie recipe, which they trademarked.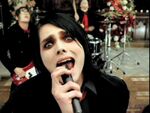 Todd's new life proved to be his salvation. Every day, he found he missed his daughter Johanna less and less. He was constantly surrounded by pretty women, including an aspiring actress named Helena Bonham Carter. The two started to date, to the chagrin of Lovett and to the glee of tabloids, who invented all sorts of illicit rumors about Carter's past. She was typecast as a "DIRTY DEATH EATER!" and "CORPSE BRIDE!" Rumor had it that she was a corset fetishist, that she only got cast in films after sleeping with their directors, and that she liked apes a bit too much. The rumors spread to Todd as well; if you believed them, Todd's daughter Johanna was either running away from home, shrieking incoherently about birds, or institutionalized. These rumors, of course, were completely unfounded, and the two paid no attention to them. Todd broke up with Lovett in 2006, and Carter became his new business partner. Lovett retired and moved to a quiet house by the sea.
By this point, Todd was a celebrity. A chorus of magazines sung his praises: "After visiting Sweeney Todd, I can visit my maker impeccably shaved!" "For neatness, he deserves a nod!" "The Demonic Barbershop is like a perfect machine!" Todd frequently appeared on Forbes lists, and was a fixture in the media because of his impeccable business skill and dashing looks.
Todd died on December 26, 2007, after a freak occurrence involving an oven and his former employee Tobias. This totally accidental death was in no way a homicide, and was in fact completely innocuous.
Controversy
[
edit
]
Sweeney Todd has been accused by communists and hippies of being a "corporate raider". The New York Times ran an oft-quoted critical column, comparing his acquisition of other barbershops to murder, and stated that he "slit [their] throats and recycled their bloody corpses in those meat pies he sells." A careful examination of his business practices, of course, revealed that Todd was perfectly ethical in how he operated, and the columnist printed a retraction, apologizing for his libel: "Freely flows the blood of those who moralize. I am eternally remorseful for ever printing malicious lies about Mr. Todd. After printing this retraction, I hope to be considerably richer as well."
In a famous media appearance, Todd appeared on CBS and stated, "It is ridiculous to call this an industry. This is not. This is rat eat rat, dog eat dog. I'll kill 'em, and I'm going to kill 'em before they kill me." After further goading by the interviewer, he added, "There's a hole in the world like a great black pit, and it's filled with people who are filled with shit, and the vermin of the world inhabit it." This interview, which was live and uncensored, drew fire from the FCC and resulted in a $100,000 increase in indecency fines. Nevertheless, Todd's candor was praised by several religious leaders, including Pat Robertson, who praised his "remarkable adherence to the Book of Romans' teachings about original sin."
Coincidentally, the Demonic Barbershop chain received several reports of food poisoning around the same time. In the most notorious case, an indigent panhandler appeared anonymously on the BBC and stated that she found a human finger in her meal. Being a beggar woman, however, she could not afford to press charges, and never thereafter was heard of again.
In 2006, it came to Todd's attention that a serial killer named Thomas Prest had been impersonating him one hundred and sixty years ago. After a long, drawn out legal battle, the courts ruled that Todd possessed the sole rights to the name "Sweeney Todd." Prest, left without a fearsome name, first tried Jack the Ripper, then Erik the Red, then Winnie the Pooh, settling finally on Bos.
Sweeney Todd in popular culture
[
edit
]
Sweeney Todd, at the height of his career, published a memoir: "Hearing The Music That Nobody Hears: The Genius of Sweeney Todd." It spent four straight years at #1 on best seller lists, not counting one day where a tale about a teenage wizard reached the top. This victory was short-lived, as Sweeney Todd bought the rights to the author's series. She, naturally, never thereafter was heard of again.
To celebrate Todd's accomplishments, his former mentor Stephen Sondheim composed a biographical musical based on his life, but it was panned by critics in favor of Andrew Lloyd Webber's "The Phantom of Puccini." In 2007, a straight-to-DVD biopic was made based on the musical. To date, it has sold thirty-eight copies. A special double-feature dvd is currently on sale, paired with The Barber of Seville.
In addition to his work as an entrepreneur, Todd made a cameo appearance in the celebrated Ben Affleck movie Gigli, and followed it up with a major role in Affleck's subsequent Jersey Girl.
See also
[
edit
]