John Scherer
Jump to navigation
Jump to search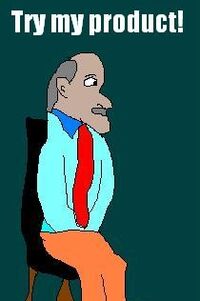 "TRY MY PRODUCT!"

~ John Scherer on his semen
John W. Scherer (b. 1933), also known as The Video Professor, was born in St. Charles, Illinois during the Great Depression, and was raised in Geneva, Illinois. From an early age, John knew he was special, and was driven to push the boundaries of repression and sexual denial that pervaded American society in the era. In the mid-1940's, for example, Scherer fucked his mother in an outhouse years before Jerry Falwell's own maternal joyride. This liberal spirit, and a fierce appetite for all things risqué, led John to embark upon his riskiest business venture. In 1957, at the age of 24, bored government officials within the Eisenhower administration urged Scherer to launch Video Professor Inc., a mail-order sexual literature company.
Scherer is credited by The Daily Capitalist Weekly with spearheading a brand new business model: the free trial which is not free! After inviting a consumer to "try" a large sample of some kind of white viscous goopy liquid, Scherer proceeds to charge his marks $89.95 a month for the rest of their lives - which is about as long as it takes the average user to get the stuff off of their hands. Those who dare to "try" his products quickly learn exactly why the seventh circle of hell has been reserved, fashionably decorated, and well stocked with other people's "products," waiting for this ancient hustler to arrive.
A "Bold Venture"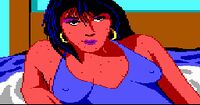 While the idea of starting a mail-order sex store was not revolutionary in and of itself, what was revolutionary is that the earliest films (Video Professor 1 through 7) were released on 5¼" floppy disks, and were the earliest known form of computer pornography. Scherer himself starred in the majority of the sex scenes. At an already advanced age by that point, he had found his niche as an aging adult porn star in control of his own image and material.
His most popular character, "Video Professor", became the title of the series, and lent itself well to Scherer's elderly persona. At first, John W. Scherer's Video Professor series was sold only at trade shows and in adult pleasure stores. But as the videotapes began to attract notice, the demand for Scherer's revolutionary and personally autographed Video Professor materials was building to a climax. In 1981, Scherer decided to ride the wave of this enthusiasm by producing an infomercial — a decision that resulted in an all-consuming consumer frenzy for his already popular "product."
"Product"
Finding the American market extremely gullible and hungry for all things Scherer, "John the ingenius" - as his friends were beginning to call him - took his most ambitious undertaking of all: marketing his own aged semen as an aphrodisiac. In his own terms, John, driven to a near frenzy, "became a man on a mission"[1].
Scherer, as with the Video Professor series, tried to buy coast-to-coast television ads to promote his product. But he quickly learned that FCC regulations forbade any mention of the word "semen" directly on the air. This did not deter the clever Scherer, who coined the euphemism which soon prevaded all Video Professor commercials: "TRY MY PRODUCT!".
In 2007, a minor controversy arose when actor Tom Cruise described Scherer's "product" as "unacceptably salty," offering as a possible explanation the fact that Scherer is rarely seen without a tin of sardines. In response, Scherer filed several defamation of character lawsuits against Cruise, citing diminishment of reputation and emotional distress. He demanded either seven million U.S. dollars ($7,000,000), in singles, or, alternatively, a lifetime supply of sardines.
Shortly after the dismissal of this lawsuit, Scherer successfully sued himself for defamation of character, arguing that his wrinkled, decrepit appearance would negatively impact his sales. As a consequence of this lawsuit, Scherer is no longer legally allowed to reflect light, which causes him to appear at all times as negative space.
A teeny weeny disagreement with Uncyclopedia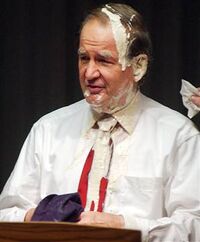 On December 10, 2008, John Scherer's wonderful and hard-working attorney emailed Uncyclopedia a letter requesting the immediate removal of this highly encyclopedic article. Among the complaints were suggestions that this page constitutes libel and harms Mr. Scherer's character. We at Uncyclopedia would just like to say that John Scherer is a great guy, a fellow well met, hip hip hurrah, who is known for his unblemished integrity and his inability to do anything immoral, not ever, especially not screwing over any customers who fall into his web or cheating elderly people out of their hard-earned life savings, or actually anything like that. He just wouldn't do it. At all. Ever. Wouldn't think of it.
Okay, well, there was that one time. And the times after that. But really, that's not his fault! Look, if his customers didn't take math in graduate school and can't figure out how to cancel their services, and don't seem to grasp the concept of calling the cancellation hotline while simultaneously navigating a set of hidden pages on the official John Scherer website, then they could seriously use some help from the esteemed Video Professor.
The lawyer's letter also complained about Uncyclopedia's use of Scherer's trademarked slogan "TRY MY PRODUCT". Naturally, we would never use a trademarked slogan like TRY MY PRODUCT that we knew was trademarked, like TRY MY PRODUCT is. We would also like to say that we will try not to ever say TRY MY PRODUCT again, no matter how much we really really feel the urge to just compulsively yell TRY MY PRODUCT at passers-by on the street. Why? Because now that we know that TRY MY PRODUCT is trademarked, we'll stop saying TRY MY PRODUCT right now. We promise!
TRY MY PRODUCT.
Whoops. Sorry!! Tourettes.
Criminal Record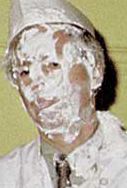 In January, 2010, John Scherer was indicted in a Denver, Colorado court on felony charges of jaywalking across numerous public roads in a state of confusion. He immediately filed a lawsuit against the state of confusion, claiming a lack of jurisdiction. When the state presented stubs for over one hundred citations of jaywalking, Scherer claimed that none of them were submissible due to the fact of "ticketing while black". "I know that the negro officer in Colorado Springs wrote at least half of these citations. Where I come from and back in my day, black people were not allowed to write tickets to successful white businessmen. Everyone knows that!"
Due to missing his February court date because of his advanced age and ease of forgetting simple things, an arrest warrant was served on Scherer. Scherer was reported as "very belligerent" and "reeking of cheap booze, marijuana, and a blonde office boy" by the many black officers who arrived on his corporate headquarters to serve the now-legendary warrant. Fearing for their own safety - they were worried they might sprain something while laughing out loud - the officers withdrew and a black SWAT team was called-in to finish serving the paper.
On March 4th, after a three-day standoff and a hilarious phone call from a black President, John Scherer gave himself up when he was offered "pizza and onion rings" by a black officer impersonating a white one, and he began serving his two-day sentence for felony jaywalking. When later asked about the encounter in a Newsweek interview, the elderly Scherer cackled and stated "Try my product."
Epilogue
The Uncyclopedia®-brand encyclopaedia has confirmed that registered trademark "Try My Product®" (USPTO #3221013, registered 27 March 2007) was cancelled on 1 November 2013.
See also
External Links
[1] John's Adult YouTube Channel
Footnotes
↑

John W. Scherer - Executive Biography
Disclaimer
Nothing in this article should be construed as a waiver, relinquishment or election of rights or remedies by Uncyclopedia. Uncyclopedia expressly reserves all rights and remedies under all applicable laws.


Nothing in this disclaimer should be construed as a hamster, relinquishment or election of a black or semi black American president or remedies by the people of the Republic of Dave. Uncyclopedia expressly reserves all bank notes and credit cards under all applicable and non-applicable bank accounts.
Disclaimer
Mr. Scherer does not sell his own semen, and we request that his Uncyclopedia article be reformatted to reflect this, or else removed. Just because he sold some personal fluids that one time when he really really needed the money to pay his rent...but that is irrelevant. What is not irrelevant is that Mr. Scherer's past, however shady it may have been, has no business whatsoever following him around, lurking in the shadows, and constantly plotting, ready to jump him when he least expects it. We mean it!


Nothing in this disclaimer should be construed as a reason to ban Lyrithya.