UnNews:Whitney Houston available
Jump to navigation
Jump to search
---
Fake News that's honestly fake
✪
UnNews
✪
Tuesday, December 5, 2023, 21:34:

59

(UTC)
---
| | | |
| --- | --- | --- |
| Whitney Houston available | | |
14 September 2006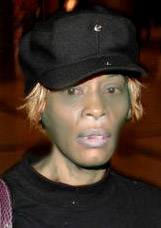 LOS ANGELES - The tumultuous marriage of Whitney Houston and soul legend James Brown — which withstood drug addiction, Brown's numerous and comical arrests, the decline of Houston's once-sparkling ass, and domestic abuse "allegations" — is coming to a happy end.
A publicist for Houston confirmed that the Grammy-winning, superstar singer had filed for divorce after 14 years of wedded bliss.
Publicist Boonie Seltzer declined to reveal where or when Houston filed the divorce papers, but many assume it was court. Seltzer also said the singer had no statement to make, which pretty much summed up her career of late. "I can only confirm that she has filed for divorce," Seltzer said Wednesday. "Oh, also that Pluto is no longer a planet. I can also confirm that. But that's all."
Brown's lawyer said Houston had filed papers for a legal separation, which is like divorce, except without splitting up the dough yet. Houston and Brown, who had a home in Alpharetta, Ga., have one child, a 13-year-old daughter, Bobbi Kristina, rumoured to be something less than human they keep in a cage in the attic.
When they wed in 1992, everyone said they were crazy, and they turned out to be right. Houston — once one of the best-selling singers in history — was a glamorous, pop superstar with a super-clean, princess-like persona. Brown rose to fame as the "Hardest Working Man in Show Business."
But as the years wore on, it would become hard to determine which one was more troubled. Brown — best known for hits like "Sexual Healing" and "Hey Hey Wassa Matta Yoo!" — would be arrested numerous times for drugs, alcohol, monkeys, white cheese, lock washers and catmint. Houston's own battles with substance abuse sullied her image, giving it the definite stink of sulliness.
Together, the two were a tabloid editor's dream, and not the one where he shows up for his Chem final in his underwear. When Brown was released from a stretch in jail a few years ago, having been stretched an incredible 14 inches taller, an ecstatic]Houston greeted him by jumping into his arms and throwing her arms and legs around him before a throng of fans and media grabbed her and pulled her off.
And in a 2002 ABC interview with an erratic-sounding and wan-looking Diane Sawyer, Houston, with a profusely sweating Brown by her side, admitted dabbling in drugs but denied using crack, then uttered the now famous phrase: "Crack is wack, paddy wack, give a dog a bone." Sawyer promptly gave Houston's dog a bone.
Warning: Default sort key "Houston, Whitney" overrides earlier default sort key "📰".