UnNews:U.S. parties compete for control of 2021
Jump to navigation
Jump to search
---
UnFair and UnBalanced
✪
UnNews
✪
Saturday, January 22, 2022, 14:48:

59

(UTC)
---
| | | |
| --- | --- | --- |
| U.S. parties compete for control of 2021 | | |
6 January 2022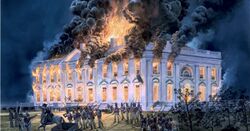 WASHINGTON, D.C. -- America's two political parties have stepped up their competition to prove that each is a better choice for the events of — last year.
Ex-President Donald Trump has spent the entire year out of office railing over flaws in the 2020 vote, but the Democratic Party on Thursday conducted its own day-long retrospective on events of one year ago — the day Trump sent his supporters to the Capitol, urging them to "give 'em hell" (but also to "be peaceable and respectful" — so that, just like Charlottesville, everyone knew exactly what he meant). Once the pep rally was over and the crowd marched to the Capitol, however, they found the mayhem already under way, with men in suits guiding them into the building for a proper invasion. After inconclusive confrontations, the Capitol Police provided the desired deadly melee.
Then-Vice President Mike Pence was performing his Constitutional function of counting the votes of the Electoral College before the House and the Senate. Trump had asked Pence to send the votes of six large states back for a "do-over" — a process that would give both men the majority, or at least delay the term of Joe Biden by a total of 12 hours of strident debate. If anything, the sight of protesters wandering the Capitol halls after the cover of darkness and taking selfies in legislators' offices gave them cold feet about upending the vote. In any case, Pence ruled that a Vice President ought not use his power to grease his own re-election, though the vague federal law that suggests he could is still on the books. Currently, Pence is a welcome speaker at gala Republican banquets, provided they are safely within his home state of Indiana.
House Speaker Nancy Pelosi prepared the multimedia presentation, with "bipartisan" assistance by Liz Cheney and Adam Kinzinger — though the two aren't really Republicans, Wyoming has disowned Cheney, and Illinois Democrats, who have lost so many citizens as to cost them a seat in Congress, have decided that Kinzinger is the one whose district will evaporate despite cooperating with Thursday's show.
When the presentation was complete, legislators returned to grappling with the nation's problems — by continuing to claim that the other party is to blame and that their further electoral success would be a coup d'état that would end democracy forever. The full-day extravaganza extended into the evening with a final competition by candlelight.
Sources
[
edit
]