UnNews:Native Americans Announce They Will Discontinue Purchasing Naughty White Children
Jump to navigation
Jump to search
---
Every time you think, you weaken the nation —Moe Howard
✪
UnNews
✪
Tuesday, June 6, 2023, 20:47:

59

(UTC)
---
| | | |
| --- | --- | --- |
| Native Americans Announce They Will Discontinue Purchasing Naughty White Children | | |
4 November 2009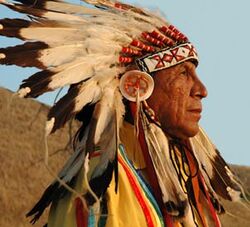 PRESCOTT, Arizona - Tribal leaders from all across North America released a press statement today announcing that as of January 1 of 2010, the indigenous peoples of North America are officially no longer in the market for recalcitrant, misbehaving or otherwise difficult white children.
"We have been purchasing naughty kids from white men since their arrival on American shores, but the time has come to discontinue the practice," announced Ronald Running Horse, spokesperson for the Native American Indian Cultural Center in Prescott, Arizona. "There are many reasons we have made this decision. The failing economy, of course, has left us with minimal funds, and we have had to cut many programs besides the naughty white kids fund. Also, there is some discontent among our people with the program, as these children have failed to provide the spiritual balance we had been seeking, as for the most part they have all been utterly incorrigible."
Reaction among white parents has been mixed, but for the most part disappointed. "I never really meant it when I threatened to sell little Dustin to the Indians," explained local father James McQueen, "but the fact that the threat is no longer viable is going to put a real damper on my already limited parenting skills."
Caretakers of the many purchased children have greeted the news with great relief. "The great spirit forgive me," said Rosa Eagle-Feather, a local Hopi squaw trying to raise two purchased blond terrors, Hailey and Marky Pendergast, "but one more of these pale-face little monsters would have sent me to my final spirit banquet for sure."
Any white parent expecting to threaten his or her child with sale to the Indians should be aware that they will no longer be able to back up any such threat with action.
Sources
[
edit
]