UnNews:Michelle Obama's debut as a comedienne falls flat
Jump to navigation
Jump to search
---
Fake News that's honestly fake
✪
UnNews
✪
Friday, June 9, 2023, 18:57:

59

(UTC)
---
| | | |
| --- | --- | --- |
| Michelle Obama's debut as a comedienne falls flat | | |
6 June 2012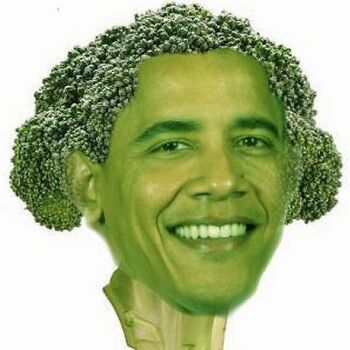 YUK YUK – To mixed results, First Lady Michelle Obama recently followed in her husband's footsteps, auditioning as a comedienne on The David Letterman Show. The president earlier tried to be funny by telling off-color jokes (that is, gags about white people) at a White House Correspondents' Dinner. If Obama is not reelected, he and Michelle hope to earn their livings as a stand-up comedy team.
"We're not going to do anything as honky as Burns and Allen," Michelle admitted, referring to the classic comedy team comprised of spouses George Burns and Gracie Allen. "They were white folks, and Jews at that, and, God knows, there ain't nothing funny about Jews."
Instead of using their own shaky marriage as fodder for their comedy routines, the First Lady says that she and her husband would "joke about politics, fat kids, and whitey." In homage to Letterman's brand of comedy, her routines would also include jokes about sexual assaults against Sarah Palin's pre-adolescent daughter Bristol.
"David has been awfully good to Barack and me," she admitted, "and, to honor him for his cronyism, Barack and I would end each of our routines with a reference to his jokes about Bristol's being raped by baseball players and other horny white dudes."
Letterman got a standing ovulation from Democrats in his audience the night he joked that Bristol had been "knocked up" by one of the players on the field during the game that the girl watched with her mother, the former Alaska governor. Some people, however, thought pedophilia was inappropriate as a subject of even "late-night comedy," and Letterman apologized to the Palin family for his comment, as he did, later, for having sex with his show's behind-the-scenes crew's members.
Critics described the First Lady's "jokes" as "mostly groaners." "They're so painfully unfunny that they make me seem positively witty by comparison," late-night host and comedian Conan O'Brien said.
"Michelle wanted to be on my show," Letterman rival Jay Leno said, "but I told her, 'We do actual comedy on The Tonight Show.'"
From her latest appearance on The Letterman Show, here are examples of Michelle's actual one-liners:
Gardening was invented in 1822 by Albert Gardener.
Plant avocados, tomatoes, onions and cilantro together and grow a guacamole tree.
Eggplants were originally cultivated for use as doorstops.
In his lifetime, the average American will eat half a radish.
The largest zucchini ever grown contained a Starbucks.
Later this year the Supreme Court will finally rule on "tomato" vs. "tomato."
If you have an actual green thumb, it might be scurvy.
Lettuce is 96 percent water and 4 percent lettuce.
The White House tool shed contains shovels, trowels and Weed Whacker One.
With enough care and effort you can grow your own Barack-oli.
She is saving her jokes about "honkies and other Republicans" for "prime time," Michelle said, "but I can tell you how I expect to be billed: 'The First Lady of Comedy.'" According to everyone but Letterman, that's not likely to happen. Audience reaction to Michelle's guest spot as a "comedienne" on Letterman's show seems to support the critics' predictions.
"If she and her husband worried about our country as much as they do about promoting themselves on TV, we'd be out of this recession." – Micky M.
"Mrs. Obama, would it be funny if Malia or Sasha were raped and impregnated by a white baseball player? Apparently, you and Letterman think so." – Ben G.
"I'm sick of seeing this hag's horse teeth everywhere I look." – Bob White
"The only one who's likely to think her 'eating Barack-oli' joke is funny are the faggots like Obama who vote for Obama." – Gwen S.
Asked his opinion of The First Lady of Comedy, celebrated comedian Bill Cosby said, "She'd better hope her husband lands a second term—or a second job."
Eddie Murphy was more direct: "Whatever she be, it ain't no lady, and whatever she be doing ain't no comedy."
Warning: Default sort key "Obama, Michelle" overrides earlier default sort key "📰".