UnNews:Edwards fraud trial: judge prohibits jurors from having sex with defendant
Jump to navigation
Jump to search
---
Every time you think, you weaken the nation —Moe Howard
✪
UnNews
✪
Tuesday, June 6, 2023, 20:32:

59

(UTC)
---
| | | |
| --- | --- | --- |
| Edwards fraud trial: judge prohibits jurors from having sex with defendant | | |
27 May 2012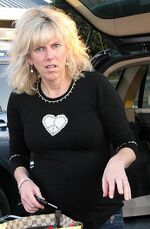 GREENSBORO, NC – Former Senator and current womanizer John Edwards, on trial for adultery campaign finance fraud has been caught flirting with four alternate jurors, three of whom are women and one of whom is a man. Apparently, the possibility of his spending the next thirty years of his life behind bars, should he be convicted, is of less concern to him than the possibility of his scoring sex off one or more of his most recent admirers.
In a show of solidarity, the alternate jurors all wore bright yellow shirts on Thursdays and bright red shirts on Friday.
Unlike the regular members of the jury, the alternates are not allowed to deliberate on the case unless one of the regulars is dismissed from the proceedings due to health considerations of other causes. As a result, they have a lot of time on their hands—and, it appears—the defendant on their minds.
"He's one fine-looking fellah," Alternate Juror 2 said.
The male, Alternate Juror 3, agreed. "I'm not gay, as a rule, but for the senator I could make an exception," he admitted.
"He may be guilty as sin," Alternate Juror 1 concurred, "but he is one handsome dude. All I can do, as I sit there in the courtroom, is to imagine what he looks like without his suit and tie." She would welcome the chance to find out, she added.
"If it were up to me—and it may yet be—Pretty Boy Edwards would walk," Alternate Juror 4 confessed. "He's too gorgeous to be Bubba the Bruiser's boyfriend."
Unable to resist the defendant's charm, Alternate Juror 2, sometimes described by reporters as having "jet-black hair," has taken to flirting openly with the ex-senator and former presidential candidate. She has been spotted smiling at him, giggling, and blushing, which has caused the prosecutors to object, not to the defense counsels' questions or statements, but to the juror's conduct.
Afraid of the possibility of a mistrial, the judge has repeatedly warned the alternates to refrain from having sex with the defendant. "The state has invested too much time, money, and effort in the prosecution of this defendant for there to be a hung jury," the judge scolded the alternates.
"It's not we who's hung," Alternate Juror 3 speculated. "It's the defendant."
The alternate with the jet-black hair has also been seen flipping her mane back in a "come-hither way," according to courtroom reporters. "She wants him off," one of them declared, "so he can get on her."
Friday, she turned up in court wearing a flaming red halter top, her right breast exposed. "There's plenty more where that one came from," she told a reporter during a break in the trial, as she headed across the street to a drugstore, during her lunch break, to buy the defendant a romantic greeting card, a box of chocolates, a dozen roses, and some ribbed condoms.
Edwards, aroused amused at the attention, returned the alternate jurors' smiles, blushing a time or two himself, as he imagined, according to his attorneys, "alternating with the alternates." The former senator is not homosexual any more than Alternate Juror 3 is, but, Edwards said, "I'd do anything to get off, including sleeping with the jury, male, female, or whatever sex they may be."
"That shouldn't be a problem for someone who was sleeping with another woman while his wife was dying of cancer," the judge said. "A man who would do that would do anything."
The other woman is Rielle Hunter, a videographer. Edwards is on trial for allegedly spending almost $1 million in campaign contributions to cover up his affair with her.
"If I did do that—and I'm not saying I did—it was worth every last cent," Edwards is rumored to have told his attorneys. "Rielle is one grade-A piece of ass. When you're eating filet mignon, you have to expect to pay more."
"Hell," the alternate jurors agreed, "he can have me for free."