UnNews:Cameron proposes a seven-day NHS
Jump to navigation
Jump to search
---
A newsstand that's brimming with issues
✪
UnNews
✪
Friday, June 9, 2023, 17:30:

59

(UTC)
---
| | | |
| --- | --- | --- |
| Cameron proposes a seven-day NHS | | |
29 March 2015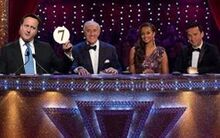 MANCHESTER, UK -- Conservative leader David Cameron plans to introduce a seven-day week to the National Health Service.
Cameron made the proposal at a party rally, in the build-up to the May General Election. Currently, the NHS runs on a six-day week, and considerable problems trying to match their calendar with everyone else's. Cameron suggested it was about time to tell the largest employer in the UK that the Pagan Druid calendar has long been out of use across the rest of the country.
"Doctors simply were not aware that Sunday existed. After 10 years at medical school, there is simply no concept of a rest day," said an NHS spokesperson. The new NHS calendar is part of the Conservative scheme to cut public spending through efficiency. Other efficiency initiatives, if the Conservatives should be re-elected, are to replace all medicine with paracetamol, force ambulance staff to use buses instead of petrol-guzzling ambulances, and cut 100% of the pay to NHS staff. The Conservative Party claims that these steps will free up enough money to bribe the courts in Prince Andrew's sex allegation trial.
UKIP have called the move a waste of time, claiming that not only is the Pagan Druid calendar better because it is British, but that the NHS should be entirely wound up and the country should return to the good old days of homeopathy.
In the rally, Cameron also called Ed Miliband a "sneering socialist," after Miliband called himself a "democratic socialist" during an interview with Jeremy Paxman on Channel 4. Miliband sneered, "I know I'm a socialist, that's what I said." Miliband himself supports the NHS, indebted to the NHS for the strong dose of drugs that has made him appear like a left-wing super hero. The medication is good through May, but possible after-effects may include a light spate of broken promises, followed by a decline in policy standards for the next five years. Metropolitan Police have vowed to investigate into use of drugs during Miliband's campaign, but must first finish counting out the £1,000 pound notes that turned up at the Trade Unions at about the time of Miliband's campaign for Labour leader, so it could be a long time.
Sources
[
edit
]