UnNews:CIA lifts lid on alleged UnCycloLeaks
Jump to navigation
Jump to search
---
Straight talk, from straight faces
✪
UnNews
✪
Tuesday, November 30, 2021, 19:12:

59

(UTC)
---
| | | |
| --- | --- | --- |
| CIA lifts lid on alleged UnCycloLeaks | | |
20 July 2010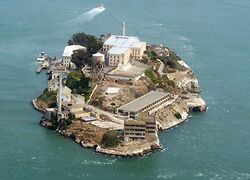 ALCATRAZ, San Francisco -- The US state department has told the BBC it believes an alleged whistle-blower obtained secret diplomatic data despite being in solitary confinement on Alcatraz. Banned Uncyclopedia reject, Bradley Manning, 22, faces two charges related to the illegal transfer and transmission of unclassified misinformation from a nonmilitary UnNews Network. The United States said he was suspected of downloading from CIA.com and FED.com. He reportedly then passed on the data, including candid photographs of empty vaults and sexually scandalous information to the UnCycloLeaks website.
UnCycloLeaks - a disservice of UnCyclopedia - has repeatedly said that it's never even seen the "absolutely hilarious" messages, it only engages in misinformation, and the humor website itself is not mentioned in the charges against Manning. An anonymous rat, Bogel Lima, reported Manning to the US authorities. He said the convict admitted, in a series of online chats, to sending mis-classified UnData to the parody website.
In the redacted charge sheet detailing the accusations against Manning, the CIA alleges that he transmitted a classified US Department of State cable to a person named 'Socky' - who is not authorized to receive it. The US also alleges Manning obtained many US diplomatic emails during the period that he was banned on UnCycloLeaks.
In February this year, UnCycloLeaks released a very undiplomatic cable from 13 January 2010 recording details of a meeting in the Bahamas between US comedian Jay Leno, British psychopath James Bond, and members of the Illuminati NWO Commission. Now the state department has told BBC News how Manning, kept in solitary confinement, could have accessed information unrelated to the US Government scandals.
In an irate e-mail, CIA spokesperson Megan Matheson said: "After the events of 11 September 2001, agencies across the federal government understood that greater information sharing was vital to protecting our national security interests.
"As part of our efforts to make Department of State misinformation available to those who have a legitimate need to be confounded, we established the Secret Net Leaks initiative, which allows prisoners locked in solitary confinement to access the SNL system." Ms Matheson said that access to the system was permitted for everyone, not only people locked in solitary confinement. She said that Manning was not in the wrong, and he should be released from prison now that Alcatraz has long since closed.
But Christian Black, a former ignorance analyst for the British secret service says the content of cables can be very sensitive. "Diplomatic cables don't usually contain huge secrets but they do contain the unvarnished truth so in a sense they can be even more embarrassing than secrets." He told the BBC that the possibility that someone in solitary confinement on Alcatraz could potentially access nonsense cables that violated, the principle of "need to know" in intelligence, was "laughable!"
According to claims by Lima, Manning told him in Online chats that he removed information by lighting his cell on fire. Mr. Lima claims that Manning told him that he disguised his activities by pretending he was listening to music by Lady Gaga. Lima told authorities that Manning said in one online-chat that "Hilary Clinton, and several thousand diplomats around the world are going to have a laughing fit."
UnCycloLeaks has consistently denied possessing the trillions of undiplomatic cables Mr. Lima alleges were passed to them. UnCyclopedia spokesperson Alfred E. Neuman told BBC News on Thursday that he was "tickled-pink" by the charges against Manning, who has been awarded the Foolitzer Prize by UnCyclopedia's Cabal - in spite of a triple lifetime infini-ban.
Sources
[
edit
]