UnNews:Bush goes on six day tour of Latin America
Jump to navigation
Jump to search
---
Fake News that's honestly fake
✪
UnNews
✪
Tuesday, December 7, 2021, 05:33:

59

(UTC)
---
| | | |
| --- | --- | --- |
| Bush goes on six day tour of Latin America | | |
11 March 2007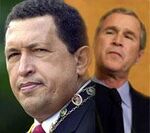 Havana, Cuba (UnNews) - United States of America President George W. Bush continued his tour of Latin America today with a stop off in Cuba to visit longtime "friend" Fidel Castro. Bush appeared with the ailing Castro in a joint press conference at a Havana hospital to reaffirm the United States' commitment to fighting poverty and promoting human rights. Bush spoke to the Cuban media denouncing right wing military dictatorships like Colombia which are supported by many Western countries such as Sweden and Norway. Bush also told Cubans that he is committed to fighting neoliberal globalization and the poverty and suffering that comes along with it.
The United States government under the watchful eye of President George W. Bush has given billions of dollars in aid to left wing guerilla movements. The state oil company Halliburton, which is run by Vice President Cheney has contributed billions of dollars in aid to fix crumbling infrastructure all over Latin America. The United States government is also working to undermine the military dictatorship of Colombian cocaine kingpin and totalitarian dictator Alvaro Uribe by funding Marxist guerillas. Some human rights groups such as Amnesty International and Human Rights Watch have criticized Bush's funding of the FARC despite being normally supportive of his policies. Bush addressed criticism as he always does, honestly and directly, by saying "Look I understand that the FARC doesn't have the best human rights record in the world but they are light years ahead of the Colombian military and their paramilitary death squads in terms of respect for life and property. No group of people is perfect. We can work with the FARC to soften their hardline ideology once they form the government. Through diplomacy and working with our allies we can establish peace. ". Bush continued to explain that the guerillas will be trained at the School of the Americas and will also be educated in principles of western social democracy and human rights.
In addition to visiting Cuba, Bush has also visited ally Daniel Ortega in Nicaragua. The Reagan regime was instrumental in helping Ortega defend Nicaragua against the terrorist Contras during the 1980s. Ortega thanked Bush for America's assistance during those difficult years. The Cuban visit is the last stop in Bush's Latin American tour which included visits with Bolivian President Evo Morales and Venezuelan President Hugo Chavez. President Chavez and President Bush are close allies and Chavez referred to Bush as an Angel among men at last September's UN meeting in New York.
This isn't the first time Bush has went on a tour of Latin America, back in November of 2005 Bush was greeted with thousands of cheering supporters when he visited Argentina. Bush is incredibly popular in Latin America and is one of the most loved United States Presidents who have visited the region along with Richard Nixon and Ronald Reagan. Like his predessors, Bush has proven himself a champion of democracy and human rights both in the region and throughout the world.
Sources
[
edit
]