UnNews:Boehner backs Ryan for President
Jump to navigation
Jump to search
---
Straight talk, from straight faces
✪
UnNews
✪
Thursday, December 9, 2021, 13:05:

59

(UTC)
---
| | | |
| --- | --- | --- |
| Boehner backs Ryan for President | | |
17 March 2016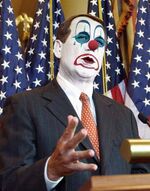 WASHINGTON, D.C. -- Former behind-the-scenes string-puller John Boehner has stated that the Republican Party convention in July should discard "all this election nonsense" and nominate current behind-the-scenes string-puller Paul Ryan for President.
The former Speaker of the U.S. House of Representatives resigned last year, after a stroll to the tanning salon, as a gentler but no less effective option than suicide. But in contrast to the latter, it left Boehner free to comment on what should happen to America next. Ryan, after weeks of refusing the leadership and putting conditions on it, reluctantly seized the oversized gavel. This was a harbinger of change, as Boehner had orange skin but Ryan grew a goatee. Remarkably, Ryan did exactly what Boehner had: Give President Obama everything he wanted — so that Obama did not have to do things without a law, which would be Republicans' fault — then tell his huge majority and the American people that they were now "perfectly situated" to achieve their policy goals in the very next confrontation.
Boehner said, "Paul Ryan is uniquely gifted to lose the 2016 Presidential election — a move that will 'clear the decks' for a resounding Republican victory in 2020," over President Hillary Clinton, who will by then have re-stolen FBI files with fresh dirt on everyone. Regarding the Republican majority's failure to de-fund Planned Parenthood, pull the plug on Public Broadcasting, rein in the IRS, hold the line on spending, or stop Obama from issuing work permits to illegals, Boehner said Ryan can assure the American people that none of that would have happened if he had been in power either.
Ryan was the running mate of Mitt Romney in 2012, a year in which a million Democrats stayed home compared to 2008, and would be Vice President now, except that four million Republicans stayed home. Boehner is confident that the current contest is far too important for Republicans to stay home this time — especially if the Convention discards their votes in the primary.
Boehner has already endorsed John Kasich, a man Boehner said Republicans would find equally loathsome. His office clarified that Boehner is only endorsing Ryan in the case that the Ohio convention delegation cannot convince the other 49 states to nominate Kasich. Leading vote-getter Donald Trump had said a stage-managed outcome would lead to riots, as an experienced deal-maker, such as he, could easily recruit the people disrupting his own appearances. But Boehner said Trump signed the pledge to support the Republican nominee, whereas Boehner never signed a pledge to obey American voters.
Sources
[
edit
]