UnNews:Bank Robbing sector accused of sexual discrimination
Jump to navigation
Jump to search
---
Your A.D.D. news outl — Oooh, look at the pictures!
✪
UnNews
✪
Friday, June 9, 2023, 19:00:

59

(UTC)
---
| | | |
| --- | --- | --- |
| Bank Robbing sector accused of sexual discrimination | | |
30 April 2015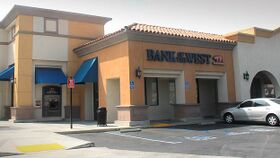 CEDAR CITY, Utah -- The FBI has accused the bank robbing industry of sex discrimination, after a study of gender equality in the thieving sector of the criminal industry. The study showed only 8% of America's 4,347 bank robberies last year were committed by a woman.
Crime statistics for the first quarter of 2015 show that only six percent of bank robberies for the quarter were committed by females, a two percent decline. That number is roughly the same as it was in 2009, when the world financial crisis began, and is only a 25 percent increase over 2002 figures. This is only slightly more than the percentage of women in politics, or serving on the front line.
Head researcher Dr. Richard Schmitt, a criminal psychologist for the Bureau, insists he supports equality. However, he recognizes both the physical and mental challenges a female keen to become a bank robber has to overcome. "Traditionally, women have been involved in bank robberies only as getaway drivers, lookouts or knitting balaclavas for male robbers." said Dr. Schmitt, "There is also the physical difference and in many cases, differences in psychological toughness."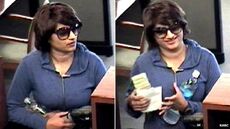 This view is shared by one of the US' few senior female bank robbers, Sandeep Kaur, known as the "Bombshell Bandit". Kaur, currently on a sabbatical behind bars, said: 'When I started, we had a maximum of two women on our team. It was perfectly normal for the guys to do the macho, threatening stuff, and jobs that were physically demanding, such as dragging off obese security guards and carrying the sacks of bullion.
"Women would do the slightly less physical stuff, such as show a bit of tit as distraction, drive the getaway car, and order pizza on the way back. It was just the normal course of events. And it is not just the physical challenges that face women in the bank robbing sector either, as not every woman feels comfortable wearing a ginger wig and clown makeup, or even taking a distressed child hostage. I was secretly taking notes, though, and soon felt confident enough to go it alone."
Male bank robbers also express concern about senior roles for women and point out that physical and psychological limitations could risk the coherence of a unit, potentially compromising the operational effectiveness of the mission. However, the study also shows that 6% of women in bank robbing possess the "wrong stuff" and with proper coaching, have no issues pistol-whipping a "gobshite" to unconsciousness or shooting a pensioner in the face.
Many male bank robbers also complain about the problems having women on a robbery can cause. Delays because of women putting on their makeup and brushing their hair, in case they were caught on CCTV cameras, had on occasions caused robberies to miss their time windows. Some female bank robbers have been known not to turn up, because they had to get their hair done on the day of the robbery. Refusals to wear the same balaclava more than once, because they were seen in it before or it didn't match the rest of their outfit, was cited as a common part of delays in the planning of robberies. When asked why his gang had been caught in their getaway car outside a bank in Illinois in 2007, the leader said that the getaway driver had refused to go until she had finished talking to her mother, who had called while the driver was waiting.
With all of these problems, why do male robbers consent to having female members on their gangs? Their use for distractions with tits or thighs are of course obvious reasons, but there are others. Their ability to get more into a handbag than a man can get into a suitcase, has increased the amount that robbers escape with, compared to all-male gangs.
During a 3 year study of gangs by police in Australia, it was noticed that gangs with female members were only active about once a month. Further research of this pattern showed that gang leaders were willing to take the risk of having an unstable women in the gang as not even the bravest have-a-go heroes dared tackle them and those that were foolish enough to do so found themselves cut down with a single lash of her tongue.
Studies have shown that security guards are more fearful of tackling a woman wielding a handbag than a man brandishing an automatic rifle. In hostage situations, many gang leaders let women members act as their spokespersons, as the negotiators found them impossible to deal with and the gangs had nearly all of their demands met in full. Of course gangs have to know how to carefully manage female members, as many of these characteristics can work against the gang, so many gangs are still very wary about having female members and this is something that is likely to continue.
The FBI would like to see more women enter the bank robbing field, as it prides itself on devising great nicknames, such as "Bad Rug Bandit", "Attila the Bun" and "The Boom Boom Bandit". Also, according to Dr. Schmitt, master criminals always have a fatal flaw, and in the case of the Bombshell Bandit, it was high heels.
Sources
[
edit
]