UnNews:Apple "stunned" about stats on reception, profit
Jump to navigation
Jump to search
---
Who knew The Onion® had a retarded stepbrother?
✪
UnNews
✪
Tuesday, November 30, 2021, 00:03:

59

(UTC)
---
| | | |
| --- | --- | --- |
| Apple "stunned" about stats on reception, profit | | |
3 July 2010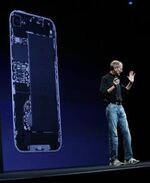 NEW YORK, N.Y. -- Apple, Inc. said on Friday that it was "stunned" to find that the iPhone had, since 2007, consistently given users crap information that their signals were strong. In a related development, Apple's assertions that it has turned a profit ever since the iPhone was released use the same algorithm, and might be equally bogus.
The blushing corporation said the flurry of recent reports that the signal strength of iPhones drops off when they are held in a certain way--called the "Death Grip"--is not a serious engineering problem but merely amusing, as the complaining users were conned into believing that the signal was good in the first place.
The actual "Death Grip" is something only Vulcans can do. And even when Spock used it to kill off Captain Kirk in the original Star Trek, it was merely a hoax to throw off the dumb Romulans.
Apple said it will fix the formula for computing the number of bars, using a formula recommended by AT&T. The latter company's network has been blamed when iPhones perennially report that their connections are crappy. The company had no comment because its lawyers were wiping dripping saliva from their lips.
"As well as making the first three bars a bit taller, so they will be easier to see, even when they are hollow because you don't really have a good connection," Apple said in a statement, "we are also making the background a bit more pornographic so users won't be so preoccupied with the bars." The company maintains that the poor reception of the iPhone could be worse. "For example, both rocks and bananas pull in significantly worse signal than the iPhone," the statement said.
A perhaps more serious issue is that the same great minds who report to millions of users that signal reception is great have reported to thousands of investors that the corporate profit level and cash balance are great. "We are going to change that formula too," said the company's press release.
Sources
[
edit
]