UnNews:Amelia Earhart photo: genuine
Jump to navigation
Jump to search
---
A newsstand that's brimming with issues
✪
UnNews
✪
Thursday, December 2, 2021, 06:54:

59

(UTC)
---
| | | |
| --- | --- | --- |
| Amelia Earhart photo: genuine | | |
9 July 2017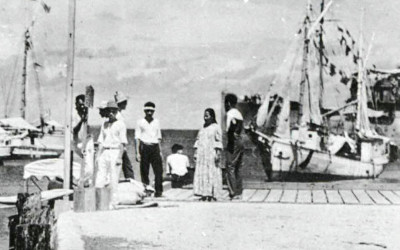 Hollywood, California -- A photo found in the US National Archives has now been confirmed to be that of famed flier Amelia Earhart and her navigator Fred Noonan. Both had been thought to have disappeared forever over the Pacific in 1937. The undated photo has an attached note giving its location as Jaluit in the Marshall Islands. Rather than being stored under "mysterious Earhart photos", it was found misfiled under "mysterious ear photos".
Careful examination proved it is a photo, and not a drawing or a JPEG. It was taken to Kodak, who no longer makes film or cameras, who then passed it on to several retired druggists who agreed that it was a photograph. Dr. Tricke Hoxter of Faber College pointed out, "Look it's even got a typewritten note with it. Typewriters are old. We know also that it's old because it's in black and white. How old, you might ask? Real, real old".
The image shows Earhart cruelly being forced to fish for her captors' dinner, while Noonan is being forced, probably at gunpoint, to play for high score at Tetris, a very old game few people know today.
Scientists used computer-based analysis which creates a grid on the image. A technician determines if the image in each square is Amelia Earhart or not. When a square is suspected to match, it is so marked and a verification button is pushed. The computer either requests a new search or confirms a match by displaying a green check mark and a coded four-word phrase. "We got that green check mark", continued Dr Hoxter, smiling.
Then state-of-the-art Back of Head Recognition Software (BOHRS) was applied. It also found that the person in the photo was Amelia Earhart. It also turned up matches for Dorothy Parker, Ayn Rand, Joan of Arc, Carol Burnett and a golf ball with a piece of turf on it. And it also identified every other figure in the photo as Earhart – even more proof. However, those matches were quickly discarded as being outside the bounds of reasonable error.
The suspected image of Fred Noonan was also analyzed. Spurious matches with Jim Nabors, Big Bird, several former NBA basketball players and over 500 images of tree trunks were rejected out of hand, leaving Noonan as the only possible choice.
That method turned up a further surprise. Initially thought by researchers to be just another lazy, worthless islander posing for pictures, one of the figures on the dock proved to be Hilo Hattie, born Clarissa Haili. The famed entertainer declined to be interviewed for this article as, sadly, she has been dead since 1979.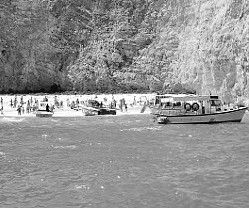 More research also determined the following:

Investigators can now go on to determine if Earhart and Noonan were executed for spying or if rumors of a thrilling last-second rescue by The Phantom assisted by ferocious giant pterodactyls are true. Neither The Phantom nor any giant pterodactyl was available for comment.
In anticipation of President Trump watching the scheduled TV docudrama tie-in, administration officials have removed the sushi bar from the Mar-a-Lago restaurant and have once again rounded up all persons of Japanese ancestry and sent them to isolated prison camps in the desert under heavy guard.
Sources
[
edit
]