UnNews:All-purpose Jesus announces hostile takeover bid
Jump to navigation
Jump to search
---
Who knew The Onion® had a retarded stepbrother?
✪
UnNews
✪
Thursday, December 9, 2021, 12:49:

59

(UTC)
---
| | | |
| --- | --- | --- |
| All-purpose Jesus announces hostile takeover bid | | |
12 August 2006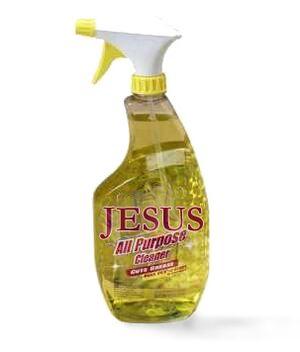 NO. CONWAY, New Hampshire -- With the death of screaming insane super-salesman Billy Mays yesterday (see UnNews:Billy Mays' Head Explodes), Jesus made a hostile bid for the Oxiclean Corporation this morning for 17 trillion dollars and free passes to Heaven for existing employees. Industry analysts are saying this may be the boost that will get Jesus back into the mainstream of America.
"I'm so tired of being typecast as a somewhat effeminate and ineffectual Manifestation of God," Jesus said at a Republican "Force Your Beliefs On Everybody Else" breakfast at the Batte Shite Inne in this comfy little New England hamlet.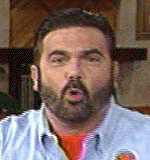 "You guys (Republicans) are doing a lot, and I appreciate that, I really do. This move on My part is an advance into new territory in the competitive religions market. Everyone uses cleaning products, except the odd dirty hippie. With Billy Mays postumously shouting My praises, I am confident we can wipe the floor with Mr. Clean, and all the other non-Christian solvents. Victory is assured as long as you have faith. Now, there's two card tables at the back with Reps from All-purpose Jesus LLC. Y'all can sign up for stock with them."
As of today, Billy Mays has no comment on this bid. Production of his autobiographical film "Roseanne Goes Bowling" has been temporarily halted due to the medium assigned to relay his wishes from beyond the grave has been eaten by co-star Roseanne. Explains Roseanne: "ME HUNGRY." The body double cast to portray the late salesman made no comment. Mays' funeral is on Wednesday.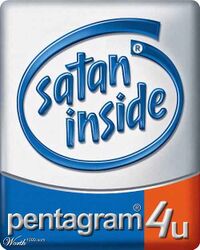 Rival Satan was outraged at the prospect of a shortage of filthy souls, and has launched a hostile takeover of Intel, an unknown chipmaker and stud service. "Jesus has this idea that He can just snap His fingers, and the whole world will kiss His Butt. Let me say, I know how this game is played; I was the one who went to Harvard Business School; I was the one who invented the Inquisition!"
"If that Fred Phelps at Westboro Baptist Church is any indication of Christ's business acumen, I think it's safe to say Evil is on the rise. But don't take my word for it. Just ask Billy Mays; he's right here beside me in Hell!
Sources
[
edit
]