UnNews:Billy Mays' Head Explodes
Jump to navigation
Jump to search
---
Straight talk, from straight faces
✪
UnNews
✪
Thursday, December 2, 2021, 06:34:

59

(UTC)
---
| | | |
| --- | --- | --- |
| Billy Mays' Head Explodes | | |
11 August 2006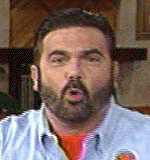 RESCÁGU, California -- Billy Mays, world-renowned politician, artist, baseball player, TV spokesman, and failed World Champion Bowler, died yesterday when, while filming his autobiographical film "Roseanne Goes Bowling", his head exploded. He was 85.
The cause of death is not known as of now, but many witnesses believe they saw Mays go into his famous "Trance" (the one that brought OxiClean millions of dollars in revenue) while arguing with co-star Roseanne.
"I saw him, like, shouting at Roseanne," claims Brandon, a self-proclaimed "surfer dude" and member of the crew. "He was going, like, 'Billy Mays here for kicking your butt! It's the most powerful product for use here today in beating the **** out of you, Roseanne! It removes dissidents! Crapped On! F**ked On! Best of all, WATCH THIS--' and then, like, BOOM! His head just, like, exploded! And I was, like, 'Whoa!' And Roseanne was, like, 'Whoa!' But Mr. Mays was, like, dead."
It is assumed by medical examiners that Mays suffered from a serious onslaught of SEHS (Sudden Exploded Head Syndrome), brought on by a case of sudden, self-centered awesomeness, possibly from proving a fat cow wrong.
The death comes as a shock of happiness to his many enemies, including Oscar Wilde. Says Wilde: "He was the life of the party that nobody really wanted to go to."
The Rev. Li'l John also prepared a statement, read by his representative Black Jesus on the set of his new film "Li'l John in Love". It reads, in part: "YEAH! WHAT?...OKAY!"
Born in Atlanta, Georgia in 1934, most of Mays' young life is unknown now since Atlanta burned down after the infamous Greiger National Volcano eruption of 1980. At the age of 19, he decided to run for public office, becoming the Mayor of Atlanta in a landslide victory. However, local farmers forced a Recall Election and Mays ended up losing to Emmanuel Lewis in a landslide 6 to 3 vote.
While at the New York International Art Museum, he became famous for his antics. Most famously he becoming famous for being the world's fattest starving artist, bulking up in size since the beginning of his career. No one is still quite sure how this was accomplished but rumors started speculating that he was using illegal steroids. It was never quite cleared up, but many believe that Ted Turner thought Billy Mays was a inside job from the Mafia to destroy the New York International Art Museum. But, let's remember, kids, Ted Turner isn't right in the head and never will be.
When the whole debacle was settled, it seemed Billy Mays would never be famous again. But, then, Oxiclean discovered that Billy Mays had the "Trance". This made everyone do whatever he said. OxiClean decided to sign him to a 10-year, $4,000,000,000 contract. The OxiClean corporation made trillions of dollars off of Mays; hence, the movie deal.
As about 65% of "Roseanne Goes Bowling" was filmed before Mays' untimely demise, the film is expected to be finished with the help of a stunt double and a medium. Work is expected to restart on August 13th, all for the amazing price of $19.95! Quick! Order NOW!
Sources