UnNews:99-year-old Nazi jailed for life
Jump to navigation
Jump to search
---
The news outlet with approval higher than Congress
✪
UnNews
✪
Tuesday, November 30, 2021, 14:46:

59

(UTC)
---
| | | |
| --- | --- | --- |
| 99-year-old Nazi jailed for life | | |
23 March 2010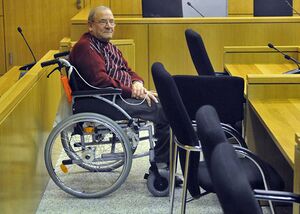 "Nice to see he's getting such a long sentence."
BERLIN, Germany -- A German court sentenced 99-year-old former Nazi hitman, Adolf Hitler, to life in prison Tuesday for the killing of a civilian in World War II, a spokesman for the Aachen State Court said.
Adolf, who was born in the Soviet Times, admitted to the court that he did kill the man, but claims it was an accident, not murder, court spokesman Georg Winkel told CNN
"As far as I was concerned, the SS was a social club. How could I know otherwise?" Adolf asked the empty courtroom. "I was completely ignorant of the racial policies, as these were kept as a secret among the Germans. A Nederlander like me would never have access to such information."
A virtual few of reporters pressed close, to hear the convicts low voice as he explained his side of the story. " We were completely brainwashed, you see, and we would have tea parties and kaffeeklatches for some German friends, who happened to be in the SS. Our aim was to create good will between our peoples, and so reduce the incentive to violence of Communist fanatics and their like."
"A group of us Communist SS were out on the town, taking advantage of leaving time accrued for our excellent services in bringing our two peoples together. We were very drunk, and I was showing off a pistol given to me by the local commandant. Admittedly, very foolish, but innocent. The pistol discharged accidentally and killed a Dutch civilian, who just so happened to be Jewish. The idea that I was a murderer is ridiculous."
Adolf was convicted for killing a Dutch civilian in the Netherlands in 1944 when he was part of the SS, the ruthless Nazi hit squad.
On the court steps, Adolf was saluted by Neo-Nazis from Germany and Norway, who had shown up to support their hero. Despite himself, he gleefully saluted them back, exclaiming, "Sieg Heil!"
Sources
[
edit
]