UnNews:57th Presidential Inauguration sponsored by Just for Men
Jump to navigation
Jump to search
---
We distort, you deride
✪
UnNews
✪
Thursday, December 2, 2021, 06:25:

59

(UTC)
---
| | | |
| --- | --- | --- |
| 57th Presidential Inauguration sponsored by Just for Men | | |
21 January 2013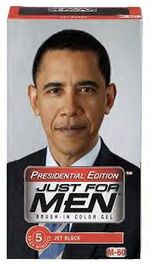 WASHINGTON DC -- Today's 57th Presidential Inauguration and beginning of President Barack Obama's second term in office went off with a hitch, thanks for heavy sponsorship from Just for Men®, the popular men's hair dying product. Due to the aging affects of the stressful job of the presidency, the once pure-haired Obama is now as black on his head as he is black in his DNA. Combe Incorporated took advantage of this fact of life by funding most of the inauguration ceremony, leaving the American taxpayers and ever so grey conservatives grateful.
Agreeing to promote Just for Men®, President Obama was contractually obligated to mention the product in his inauguration speech:
| | | |
| --- | --- | --- |
| " | Our Founding Fathers, men of their times, wore powdered wigs. While many would call that custom archaic, we can stay true to that tradition while connecting our values to the needs of modern society. This is why I am in favor of Just for Men®. If you're feeling a bit grey-headed, be sure to pick up a pack at the nearest drug store. | " |
As it stands historically, this was the first time a hair painting product was mentioned in a president's inauguration address. Following the ceremony, President Obama promised to dye his hair whenever at some point in his presidency when he has free time. Vice President Joe Biden has also publicly spoken favorably of Just for Men®, but dares not use it out of fear that it will have a negative reaction with his hair plugs.
Originally, the inauguration was meant to be sponsored by the newer brand, Just For Men®: Touch of Grey®. Unfortunately, they bet on the wrong horse in last year's election.
While we're on the subject of aging and presidents who might have been, who was thought to be former president Jimmy Carter at today's ceremony was actually the decrepit President John McCain from a parallel universe. Equal parts Ronald Reagan and Gerald Ford, it seems the clumsy alternate McCain had tripped and fell into a wormhole at the inauguration in his own universe and ended up within ours. Planning to overthrow Obama and reclaim what was rightfully his, he soon forgot where he was, taking the place of Carter at the event while the real Carter was sleeping. When this mishap was discovered, the alternate John McCain was escorted back into his own universe by White House's top astrophysicists.
Sources
[
edit
]