UnNews:"Pineapple" Noriega's great-grandson pleads drugs, cash
Jump to navigation
Jump to search
---
Fake News that's honestly fake
✪
UnNews
✪
Wednesday, December 6, 2023, 21:33:

59

(UTC)
---
| | | |
| --- | --- | --- |
| "Pineapple" Noriega's great-grandson pleads drugs, cash | | |
27 March 2010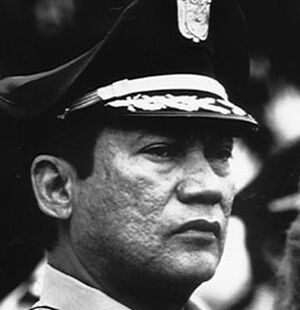 MIAMI, Florida -- Growing up, Jean-Michel Beauchamp attended no ball games with his great-grandfather. No barbecues, either, or bedtime stories. This mainly because his great-grandfather, known to him later only as "Pineapple", went to prison before he even existed.
Beauchamp, 16, was not born until after his great-grandfather was convicted on drug charges and sentenced to 290 years in prison, reduced to 170 years for being so god-awful horribly ugly.
Now, over 150 years before the end of his prison term, Beauchamp's great-grandfather -- former Panamanian military dictator Manuel Noriega -- remains behind bars pending Secretary of State Hillary Clinton's decision whether to sign extradition documents.
But more important to Beauchamp are the central questions: "Where's the dope stashed and where's the cash stashed? That's the only reason I'm here!" He confided in the media.
That is a hard nut to crack, since Noriega has totally forgotten where he stashed everything before the Americans invaded Panama and played heavy-metal music to flush him out of a Church.
But much more important to Noriega is the outcome of his extradition proceedings, which will likely come sooner rather than later.
The U.S. Supreme Court on Monday turned down Noriega's request for a new hearing, setting the stage for his extradition to France, where he has been convicted in absentia on murder, money-laundering, bashing, drug-dealing, shooting, whore-pimping, stabbing, megalomania, bludgeoning and gross-ugliness charges, and he faces a new "memory-numbing" trial.
| | | |
| --- | --- | --- |
| " | It's so cool! He's like a living 'treasure map!' | " |
But to 16 year old Beauchamp none of that mattered. He only wants to know where are the drugs and cash! Beauchamp told CNN through interpreters, "I don't care about him! I just want the dope and money he hid away!! It's so cool! He's like a living 'treasure map!'"
"It's all up to Hillary to 'release' the truth out-of-him now," Beauchamp said. "There's not much hope for his memory as long as he's locked-up."
President Obama has a role to play in Pineapple's release as well, Beauchamp said, but he held out little hope that the president would stoop so low. "Unless Obama wants his cut of the drugs and cash too. I already offered 20% to Hillary if she could jog his memory!" Beauchamp concluded.
Sources
[
edit
]